Can a front mounted etalon be added to a non-solar refractor as a single stack configuration? Yes. What's the difference between a stack and the blocking filter, e.g., B1200. Are both (a stack and a blocker) required for Sun Yes; can Sun be observed with either one? No. If not, what is the minimum requirement to observe sun, a blocker or a stack? ERF, etalon, blocking filter.

Sorry, this is all quite confusing for a start up; but why hesitate to ask. Most of all, why Solar has such confusing terms, as etalon, blocker, filter, etc. I don't need an assay on etalon, just a simple one line answers as to the difference between an etalon and a blocker and do they have to together or not? Yes - together.

While I am at it, why the term double stack? Does it really mean two etalons in the imaging train? Yes. Word 'stack' has connotation of one next to the other, but then they can be used quite apart from each other. Not quite.
So much for the simple one-word answers - and simple phrases... which doesn't explain much. For a more in-depth understanding, you will actually have to want to learn more. If so, you will find answers here. You will discover H alpha filters are really a system of multiple filters that accomplish different tasks in order to make the Sun safe to view and accomplish something no nighttime filter can.
As far as what double stacking accomplishes, it is there too. Here's what it actually achieves: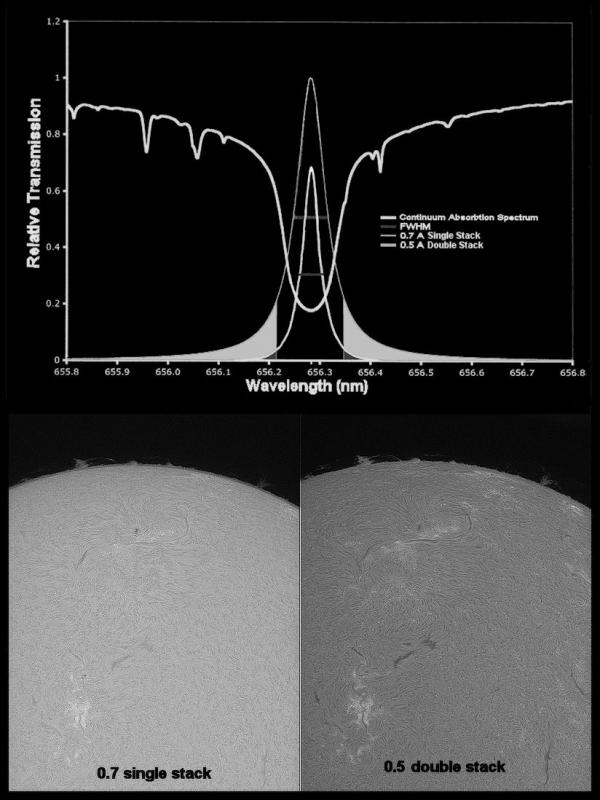 click for larger
Edited by BYoesle, 17 October 2020 - 11:12 PM.