I finally got 2 clear nights to try out my scopes on Mars at a reasonable time 9pm and when its at its closest.
Being at 41' South I'm only getting it as high as 43 degrees and I'm generally looking at it at 20-25' in the East.
both nights clouds would just hover below Mars coming up, and then finally took over - clouding up the whole sky so I gave up at that point.
Both nights I didn't research what I should be seeing and which side of the Planet I was looking at......more on that in a moment.
Thursday night - 8" Edge - It was just far too bright and overpowering. Even light filtering.....it didn't do much.
I didn't get a lot of time here but the seeing was average/below average
Friday night - 102mm F11 - sadly I have it setup for bino.....so unfortunately I had the diagonal close to the focuser then a rather long extension running in mono so not the best setup for the test.
Much dimmer...... more contrast. Wow I think I'm actually seeing features.
So after recently watching - 'Daniel Mounsey shares his experience of astronomy' on youtube - made way back in 2017
I experienced the scene first......then wanted to prove what I'd seen.
I was seeing a dark triangle at the centre of the planet with a 7mm delite @ 160x and even a bit more defined on the 11mm.
So I pulled out sky safari and yeah ...... that looks like it.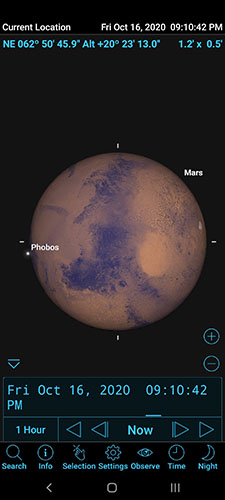 The clouds were coming and I wanted to grab it as a pic......
D750 with a APM 9mm attached. 1/40 second.
[I don't have a planetary stacking beast yet........one day. lol]
I'm visual and I had a breeze so all I'm saying is the Planet looked like Skysafari. Proved but I saw it first by eye.