Hi brains trust, I'm nearly entirely new to planetary imaging, being a wide-field narrowband nebula guy, but I have to do a bit of this for work (tough, huh?).
I've been teaching myself for six sessions now (two before I even pointed a scope to the sky), and I'm pretty happy with my progress so far, but it's time I began asking questions (although Tulloch from this forum has been very helpful - thanks Andrew!).
Hardware is a standard C8, 2x ED Barlow and QHY5III 462C. FireCapture cutout and planet sensing works well, got 35 FPS (sure I should be getting higher) saved as SER.
I've posted a screen shot of SER player in the middle of one of my output files, and it's clearly overexposed in green and red. This was despite having set autohisto to 69. I've also attached the settings from FireCapture at the bottom. Can anyone tell me what I'm doing wrong?
Subsequent to that, I added an IR cut filter, turned the autohisto down a little more and got a run of 10,000 frames that seemed OK. It was just over 5 minutes - is this too long for a single run on Jupiter?
I've posted a grab from SER reader for the run I eventually used. Is that too much noise? Too dark?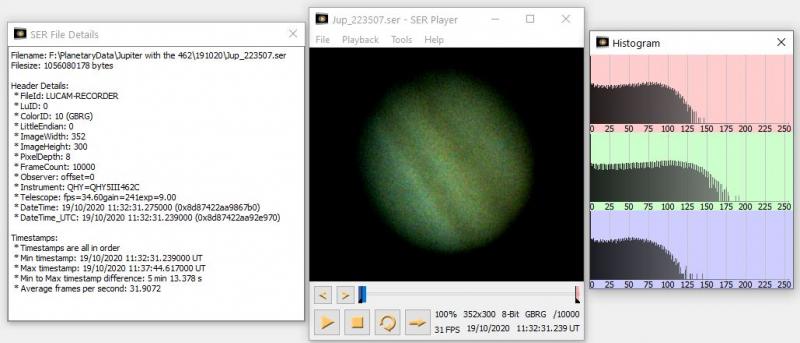 I've just roughly processed the SER - I haven't learned much about that yet. Didn't use PIPP, used AutoStakkert to stack the best 90% of the 10,000, then sharpened (probably much too aggressively) and colour balanced using RegiStax.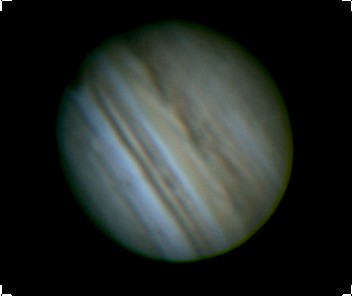 Can people give me an idea of what the biggest weaknesses are, so I can work on these next?
Thanks, Bill

Jup_221049.txt 868bytes 18 downloads