Hi all. It's been a while. Although this summer has been the best on record weather-wise -- absolutely gorgeous from Jun 1st until now -- extremely poor seeing conditions coupled with the low altitude caused me to skip Jupiter and Saturn altogether. Mars is decently high in the sky at 45o for me, so I've been waiting for a decent night. Finally got one this week -- 3.5 out of 5 perhaps. That's about as good as it gets here in eastern Canada under the Jetstream!
Here's a shot which combines my best 10% of frames from 4 different 3min runs. I was up around 400 fps with my C14 and 290MC at ~F14. I had to push the processing fairly hard to get any amount of clarity. Looks like the heavy processing might have introduced some artifacts, but I'm happy with the result given how poor a season it has been here.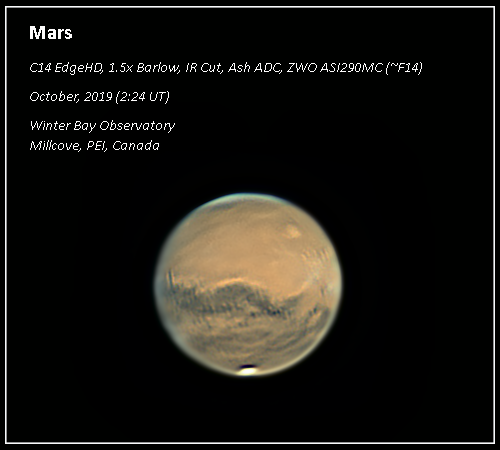 I also stumbled upon something in my observatory this week that might be impacting my imaging. When my obs was built, I paid extra attention to ensuring the dome room was well insulated from the rest of the building -- spray foamed walls and floor and R25 rigid on the hatch. I also vented the dome room well to try and keep its temperature similar to outside conditions, so when I open the dome, the scope doesn't take long to acclimate. Prior to my imaging session, I re-checked my rough collimation. I've always had trouble collimating, but always chalked it up to my poor seeing conditions. Here's what it typically looks like, even on a decent night: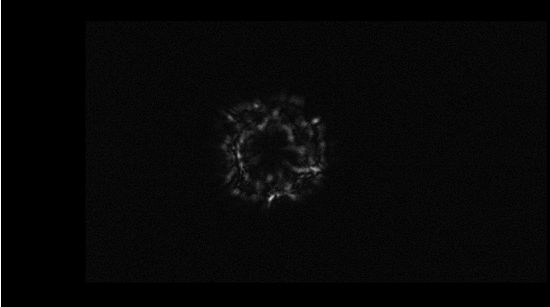 ...continued in reply...