StellarVue 9 x 50 Plus…
This is a demonstration drawing I did for and with my Drawing 2 class for their assignment. There were several goals including broadening their materials fluency, improving use of two point-or multi point perspective, and combining two or more reflective or polished objects to create a third object with a new purpose or alternative narrative. It's also a project designed to foster precise rendering, sensitivity to gray values and light source and creating an illusion of three-dimensionality and space.
In my case I used my StellarVue 9 x 50 Finderscope turned on its side and angled away for the perspective, a small sculpture of a grasshopper made from a sparkplug, nails and other soldered or welded detritus--my first art fair purchase ($12—a princely sum when I was making 75 cents a week allowance) in 1969 that at the time I thought was ingenious--and a perplexed scientist. My thought was to create a kind of 1950s sci-fi or horror tableau combining a large refracting telescope (the visual pun for me is that it's the SV 9 x 50 drawn roughly to scale) made to look like some amazingly huge refractor, a beacon that accidentally pulled in some oversized mechanized life form. Note the tiny astronomer/scientist's reaction. My only regret is that I should have removed the lens cover.
The approach is called heightened drawing, which means working with a mid-toned paper, white chalk and charcoal to expand the value range on either side of the mid gray of the paper. It's a technique that goes back to the Renaissance and Leonardo among others.
Charcoal Pencils, White Chalk Pencil and Pastel Pencils (on the grasshopper) on gray pastel paper. Students were only required to use the charcoal and chalk. Image size is roughly 10" x 15". Paper size: 13.5" x 20".
Seems to have softened slightly in making the image meet the file size restrictions for CN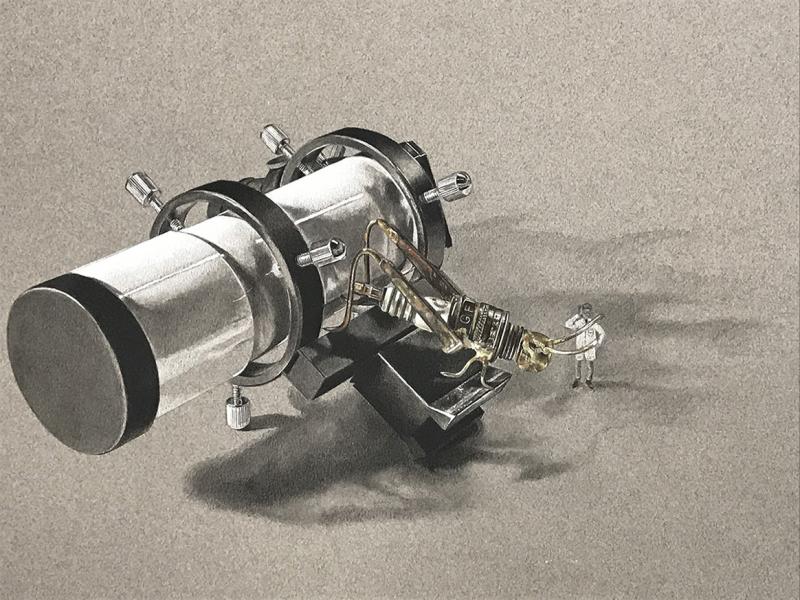 Chesterguy
Edited by Chesterguy1, 20 October 2020 - 02:45 PM.