Las week I had a go at imaging Mars with my C-11, f/10 & ASI290MC color video camera. The sampling is around 0.21 arc-seconds per pixel. Here is my work flow:
Capture 2-minute videos at 255 FPS, around 31,000 frames (3.2 GB) each using FireCapture
Stack in AutoStakkert!-3, default settings
Output fed into Registax-6
AutoStakkert!-3 produces two outputs - one blurry and one sharp. Until I knew better I worked with the AS!-3 sharpened output with the following results from RS-6.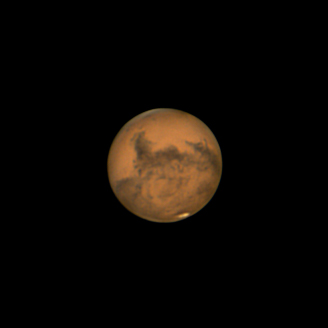 10% (3150 frames) stacked
This image would allow very little wavelet sharpening in RS-6 since it had been pre-sharpened in AS!-3. Then I came to understand that the blurry, unsharpened output is what should be fed into Registax. Here is a result.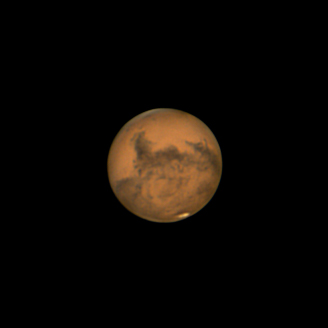 25% (7880 frames) stacked
The problem I need help with is that in the second image, on close inspection, there is a "window-screen" pattern on the left side only. So what is causing this? Should I have done a drizzle in AS!-3?
Any Help you can offer would be greatly appreciated. I can supply pertinent settings used in wavelets as the need may be.
Best Regards,
Russ