There was a recent thread with some debate regarding how long you could stack images in Autostakkert!3 without rotating before it becomes disadvantageous. The other night I had average seeing but it remained consistent for a very long period so one of the 10 minute captures I decided to do variable duration stacking to see where it stopped improving. In essence, this is going to be wildly variable depending on how far away Mars is at the time, and your focal setup so it pretty much will only apply for that night with my equipment in my setup. That said, this was on the 19th of October with an estimated diameter of 21.84", on a CPC1100 with a 2x powermate onto a ZWO ASI 224 MC.
These are the video reported statistics:

Camera=ZWO ASI224MC
Filter=L
Profile=Mars
Diameter=21.84"
Magnitude=-2.51
CM=338.8°  (during mid of capture)
FocalLength=5650mm
Resolution=0.14"
What follows is a stack of 1,2,3 etc up to 10 minutes duration with exactly the same post-processing settings for comparison. There almost certainly is someone out there who could make these look better, but that's not the point of this exercise; it's simply to see what gave me the best quality. When I flick through these images directly, there is visible rotation when moving from 1 to 2 minutes, along with less noise, and then after 2 minutes there is no visible rotation, but progressively more blur. I took this further and then tried to test where image quality deteriorated and it improved up to 95 seconds (not shown here.) Unless you scroll through them in the gallery in exactly the same position it is very difficult to make a meaningful comparison.
Here's a link to just this gallery: https://www.cloudyni...ng-experiments/
60s
120s
180s
240s
300s
360s
420s
480s
540s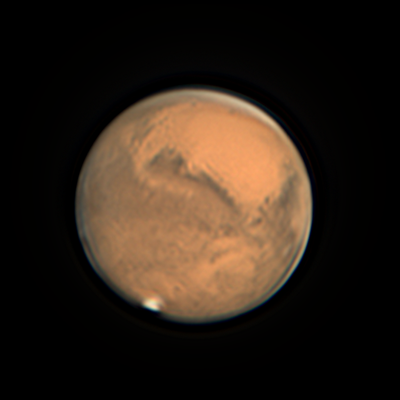 600s