Hi all - we finally got to image on a passable night at home on the 18th...somewhat amazing because clouds have torpedoed nearly all our efforts here except for a few poor outcomes in lousy seeing.
So it was quite nice to find that Mars itself displayed quite a bit of cloud, over S. Meridiani, Deucalionis Regio, Aurorae Sinus etc & of course both limbs & the North Polar Hood...

The best display/coverage we've been privileged to see/capture this year when (certainly for us) there has only been limb & Polar Hood clouds mainly to date...
Here's our annotated image of the night's results: rgb @ 150% with an annotated version...as well as the rgb, r, g & b at around capture scale.
I'm starting to put together the images but we're holding our breaths in the hope that we can grab Syrtis Major full-faced in 5 or 6 days time

to complete the vistas - probably have to travel to Yongala or Hawker to do so if the forecasts hold the way they presently suggest...but if it does then we'll be extremely happy in an apparition where we thought we'd be really scraping to get any decent images!

Pattie came up with the thread title - a very apposite one, I thought..!


Anyway, here's the images from the night at home - I'll post a compendium of the images here in the next post but only at 77% of captures scale - & a jpeg to boot - unfortunately due to CN file-size limitations...but I'll provide a link to our website & a full-sized .png-24 image (well over 1Mb) for anyone wanting to see it there.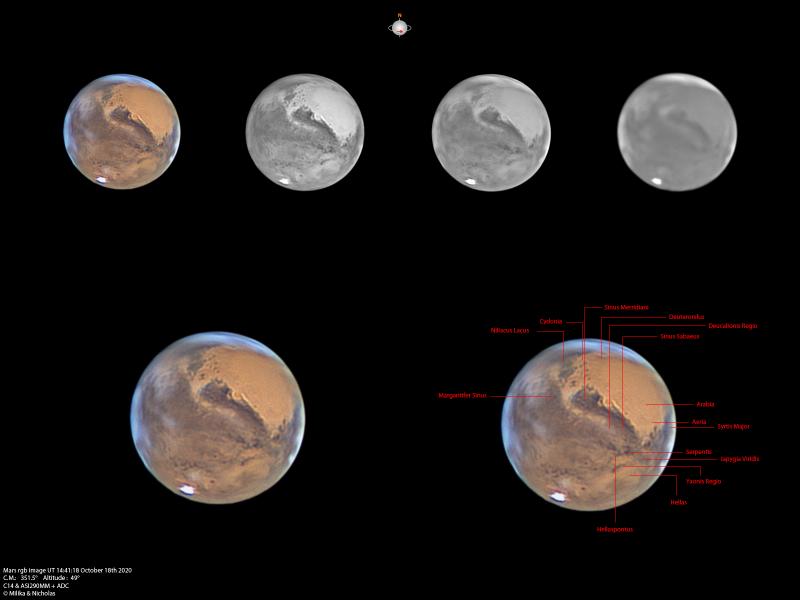 Edited by Kokatha man, 21 October 2020 - 05:17 AM.