NGC7288 in SHO (SH2-171 and SH2-172). This is also called CED214. The combination of the two nebula looked like a question mark to me. The is one of my wide field images from Cepheus taken with my Canon EF 135mm at F/2.5 and my spare ASI1600MM-pro camera. It has been a lot of fun.
Sh2-171, as designated in the Sharpless Catalog of HII emission nebulae, is a star forming complex located in the constellation Cepheus at an approximate distance of 3,000 light years from the Earth. A very young cluster of stars, designated Berkeley 59, is located in the upper center right of the image. The cluster is only a few million years old and is the primary ionizing source of illumination for the nebula. Its intense radiation and strong stellar winds have shaped and eroded the many columns and pillars seen in this remarkable star forming complex. The Berkeley 59 cluster contains one of the hottest stars within a thousand parsecs from the Sun. It is an eclipsing binary containing an O5V star (BD+66 1673) with a surface temperature of almost 45,000 Kelvin. It has luminosity approximately 100 thousand times that of our Sun. The bright star located in the center of the image (SAO 10956) is not associated with Sh2-171. It is a foreground star approximately 317 light years from the Earth.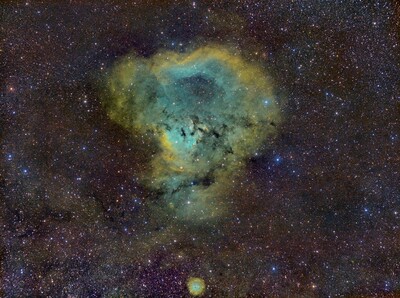 The full image can be found on my astrobin page:
https://www.astrobin...1ilqms/?nc=user
Here are the image acquisition details:
Imaging telescopes or lenses: Canon 135mm f/2
Imaging cameras: ZWO ASI1600MM-PRO
Mounts: ORION HDX-110 EG-G
Guiding telescopes or lenses: Orion EON 115mm ED APO Triplet Refractor
Guiding cameras: QHY5-III 290MM guide camera
Software: Sequence generator pro · PHD Labs PHD 2 Guiding · Carte Du Ciel 3.10
Filters: Astrodon 36mm O3 5nm · ZWO 36mm SII · zwo 36mm h-alpha
Accessory: QHYOAG-M
Dates:Aug. 23, 2020 , Aug. 26, 2020 , Aug. 30, 2020
Frames:
Astrodon 36mm O3 5nm: 433x90" (gain: 200.00) -10C bin 1x1
ZWO 36mm SII: 300x90" (gain: 200.00) -10C bin 1x1
zwo 36mm h-alpha: 620x90" (gain: 200.00) -10C bin 1x1
Integration: 33.8 hours
Darks: ~50
Flats: ~50
Flat darks: ~50
Avg. Moon age: 8.43 days
Avg. Moon phase: 58.71%
Bortle Dark-Sky Scale: 5.00
Astrometry.net job: 3928419
RA center: 0h 0' 27"
DEC center: +67° 2' 13"
Pixel scale: 5.880 arcsec/pixel
Orientation: -1.173 degrees
Field radius: 4.386 degrees
Resolution: 4310x3203
Locations: Backyard, Austin, TX, United States