..on planetary imaging, you may have heard of the central importance of good seeing for producing the best images. I thought I would post a sequence of images here that emphasise how seeing can change during a night, and that periods of good seeing may be fleeting. You may think that someone like Kokatha Man, posting superb images here, is lucky to have good seeing, where he works in South Australia. However, he spends many hours imaging, travels widely with his scope to find areas of clear skies, and the results that we see here are the outcome of many, many hours of work, waiting for the elusive periods of good seeing. (As the saying goes, the more he practises, the luckier he gets!).
There are apparently regions of the world where the seeing tends to be generally good - where I am in Canberra is not one of them! The images below were taken during a session with Mars on the night of 20th October. There was not a cloud in the sky throughout, but the seeing varied quite dramatically during the session. I had been hoping to collect a nice sequence for an animation of 2 h, but as you will see, it was not to be.
I was using a C14, ADC, Barlow 1.5X, and ZWO290MM with RGB filters. I present only the R images to show how the seeing varied. Note that I do not present these as evidence of superb seeing at any point - the best seeing I had was just OK.
First you have a period from 1056 - 1113 (UTC) of mediocre seeing.
Then at 1121 things go rapidly downhill to very poor (1130).
Things suddenly get briefly better around 1155, then go pear-shaped again for another half hour (1218-1230), until, just as I was about to give up for the night (not in disgust, for I have become a philosopher as a result of nights like this, and accept the gifts of the Seeing Gods with stoicism), things suddenly got better and I rattled off the last four RGB triplets. At this stage, I should probably have stayed up, but I could barely keep awake.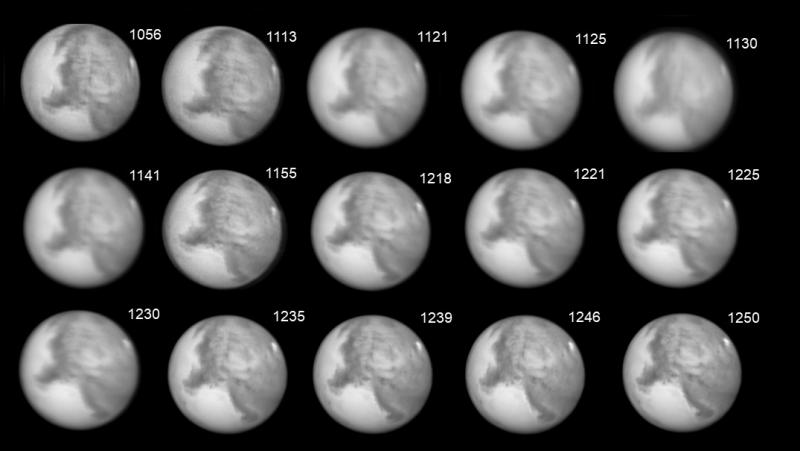 I think the lesson is that, like anything else, you have to be out there practising. You have to put in the hours. Depending on your region, you may need to wait longer than others for the brief periods of good seeing. Seasons may vary, and years - we seem to be having a bad year in south Canberra this year. Seeing can also differ over fairly short distances - here in Canberra it can vary between the northern and southern halves of the city.
Regards
Mark
Edited by Lacaille, 24 October 2020 - 02:33 AM.