Even though we're helplessly immersed in the doldrums of sunspot minimum, every once in a while (last week, for example) there's a solitary one or two to enjoy... and occasional events like partial or annular solar eclipses and planetary (or ISS) solar transits happen often enough that it's worthwhile having the ability observe the Sun in "white light", even if it's only for a few minutes.
To that end, along with the white-light filter that I use for solar AP on my 4" refractor:
https://www.highpoin...-filter-astf100
...I have a similar pair for my 15x60 binoculars -- which are great for hand-held quick-checks, to see if the spot in question is large enough to warrant closer visual inspection... or maybe even a photo.
Until recently, "closer visual inspection" meant using my Oberwerk 20x80s... so I had gotten an inexpensive pair of filters for them:
https://www.bhphotov...ens_filter.html
But those binocs (and the filters) are now gone, having been replaced with a larger and far sharper pair of APMs. Unfortunately, the DayStar filters I had for the Oberwerks are the largest-diameter ones in that configuration that DayStar makes, so I had to search for a workable alternative for use on the APMs.
Easier said than done.
As it turns out, coming up with ones that would work with the APMs was tough... because with their eyepiece separation adjusted for my 60mm IPD (inter-pupillary distance), the inside edges of the objective housings -- which are 120mm in diameter -- are only 7mm apart.
This meant that even with their cutoffs, the outer flanges on these Baader filters would definitely still be too wide, unless they were allowed to overlap:
https://www.highpoin...-filter-asbf100
It took a bit of searching, but I finally found something that I thought might work:
https://optcorp.com/...er-meade-etx105
Maddeningly, the description for them says "This specific solar filter fits telescopes with an outside diameter between 110 mm and 120 mm."... but it doesn't give the actual inside diameter of the filter-housing. So I was concerned that the filter-housings would either be too small to fit over the objective-housings... or too wide for me to be able to place them side-by-side, and still achieve my 60mm IPD.
Most places I looked were either out of stock, or only had one... but I kept searching, and ended up getting the last two that OPT had.
The day that they arrived, it was late enough in the afternoon that the Sun was already sinking into the murky haze, so a reliable sharpness-test wasn't feasible... but I did test-fit them on the APMs. As it turns out, the filters' ID is 127mm... which means that with the binocs' IPD set at 60mm, the outside edges of the filters are only about half-a-millimeter apart!
I'm including this much detail, by the way, because for those of you who own these same APMs or are thinking of getting them... if your IPD is less than 60mm, these filters will not work, because they'll prevent you from being able to decrease the IPD to your size. In that case, you're going to need to fabricate a DIY pair, on your own.

Anyway...here's how they look: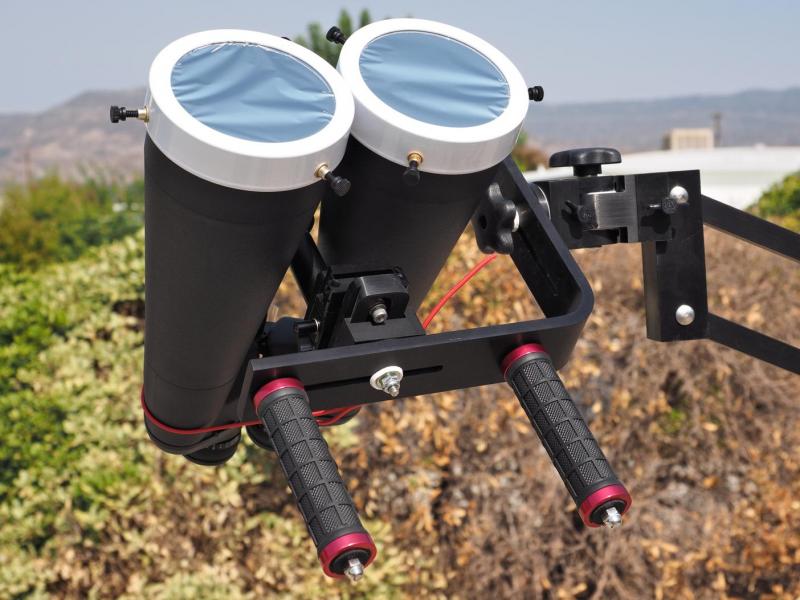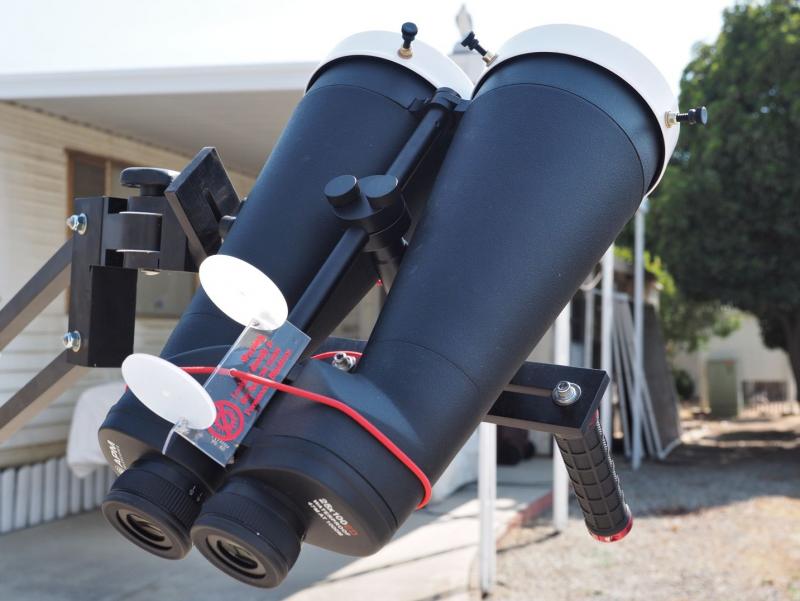 Obviously, I was hoping that they'd fit... but also, I had seen a thread a couple of days prior to ordering them, that mentioned the appearance of an actual sunspot,

so I was really hoping I'd get these filters in time to use that sunspot as a sharpness-check for them. And for once, I got lucky. The sunspot was a single, medium-sized one, and the following day it was still fairly close to the center of the solar disk... so it showed up really well. And in the solar-filtered APMs it was tack sharp, with an easily resolved umbra and penumbra.

So I'm a very happy guy.
Now all I have to do, is wait three more years for the next sunspot.