Here is my 1st Cygnus Loop in SHO (Hubble Palette), from my suburban Louisville, KY backyard. It was shot with my ASI183mm-Pro and Baader 36mm NB filters, using my Samyang 135mm f/2.0 at f/2.8 (mainly). Processed with PixInsight. Cygnus Loop is Super Nova remnant in constellation Cygnus and is about 2,400 light years from Earth. The Cygnus Loop includes the Western Veil (aka "Witch's Broom"), Eastern Veil (aka "Bat Wing" or my preferred "Joker's Face"), and Pickering's Triangle.
Ha 240sec x 245 at f/2.8
Oiii 240sec x 123 at f/2.8
Oiii 120sec x 140 at f/2.0 (mistaken wide open)
Sii 240sec x 153 at f/2.8
This project has many errors/experiments:
1) My 1st night, I shot any entire night of Oiii at f/2.0. This batch does not have the best flats as my light panel was not square to the lens hood, as it was taken while mounted on large Losmandy DUP14, which extended past the lens.
2) Initially, I used an over/under arrangement and a jerry-rigged tripod collar. Some of the data the tripod collar was not tightened enough (by hand), and some had the collar tightened with a wrench.
3) My last batch of data, had a much better mounting arrangement, using Losmandy rings on the 7" Vixen bar, cross mounted on a 13" Losmandy dovetail.
4) I changed my rotation for the last batch, to ~115deg from ~130deg. I could not get Adaptive Normalization to work, so I cropped in tighter.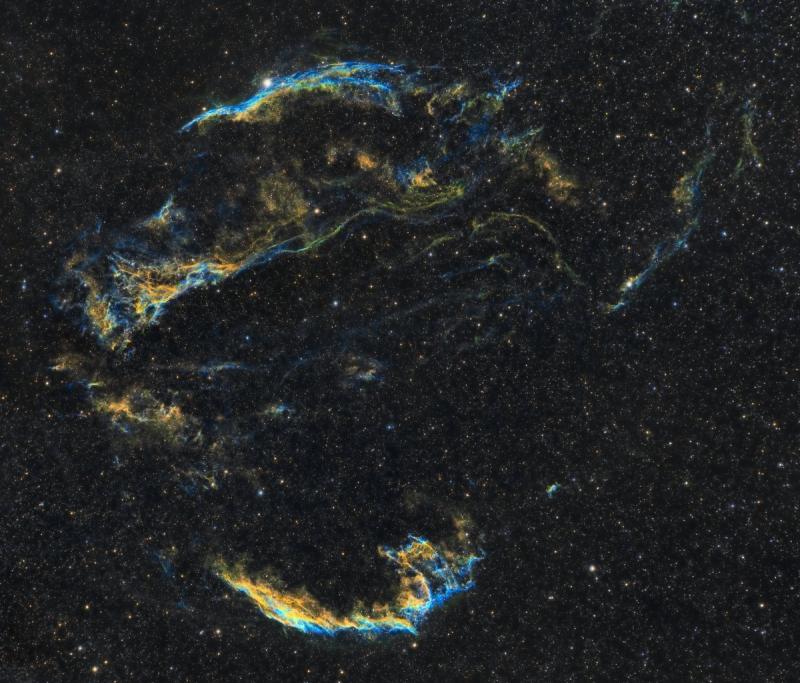 I used all the data, even from the mistakes and bad mounting. The stars do not look very good for pixel-peepers, but things look fine globally. Besides wanky stars from sloppy tripod collars, f/2.0 subs, and using a camera lens, there is probably some tilt somewhere.