Hi
Several nights ago I was completing a final observation of NGC 40 from this month's Observing Challenge and encountered a histogram problem I had not seen before.
Once I had my gain and exposure for the object worked out, I went ahead and captured 20 darks using my filter wheel 'opaque' filter as usual. Once it was completed, I started live stacking but forgot to go in and apply the master dark I had just captured. Here's how it looked on the screen after I'd been zooming in/out and sketching the object for awhile: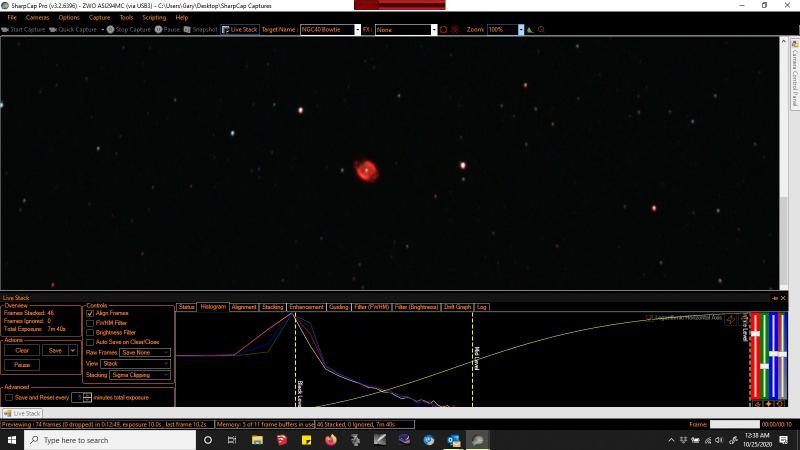 Eventually I realized I hadn't applied the dark. So, I navigated to the dark I'd captured earlier, applied it and restarted the stack. This time the histogram was problematic and looked like the image below.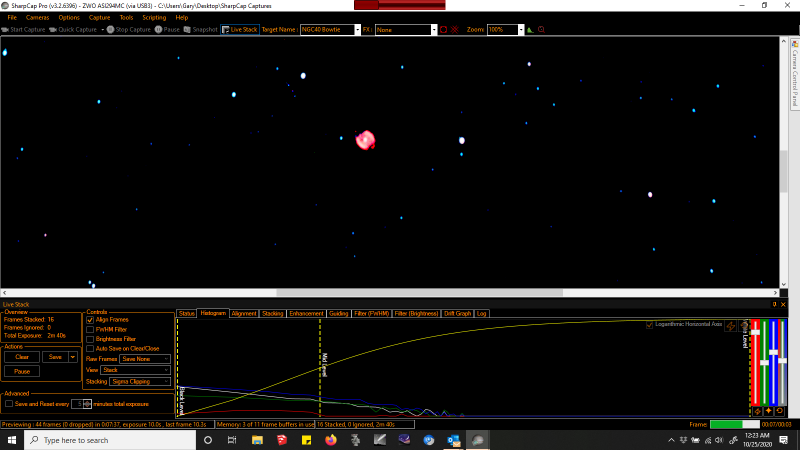 I fussed with it for a bit and wasn't able to correct the problem. So, I canceled the Dark, restarted the stacking and the Histogram returned to what you saw in the first image. So, no harm, no foul, I carried on observing and sketching the 'Bowtie Nebula' and had a great time under the stars.
Yet still, I don't understand what happened and I've racked my memory and can't recall anything unusual that I might have done to mess up my workflow and impact the live stack histogram. I've been using the 'dark filter' in the filter wheel for several weeks now to capture my Darks without problems. It actually a nice convenience.
So, I hope some of you might have encountered the problem and/or know what I might have done incorrectly. Please share any thoughts or ideas that might keep me from making the mistake again. Many thanks in advance for your help!
Gary
Edited by GaryShaw, 27 October 2020 - 02:36 PM.