49.6mm is the equivalent circular aperture, in area terms, of the one I have to work with (70mm height). Read on to see why..

I 100% apologize if this sounds like I'm asking for free work- I just thought it might interest some people, and this is the first time I've written it out properly for myself too. On the grounds that I think this could be an easy design, I would like to ask if anyone could come up with a prescription that I could learn to build and test.
Scroll to the bottom for the telescope design discussion.
------------------

There's probably no better time to fire the starting gun on this project whilst I still have the time to think about it. Nor can I be bothered to keep it to myself!

I have acquired two "Anamorphic telescopes" made by Tropel for use in KLA-Tencor AIT 1/2 Semiconductor wafer inspection systems, that I would like to get some images out of. They have a 11.25x and 14x horizontal squeeze factor respectively, but the 11.25x will be the focus as without modification only a sliver of light gets through the 14x one, and so is left for now.
The 11.25x one would allow me to create, to my knowledge, the world's largest aspect ratio single image taken of anything outside of 'industrial imaging'. Would be nice to apply this to full frame astrophotography.

A few images from awhile ago- I'm clumsy, so I don't take them out often...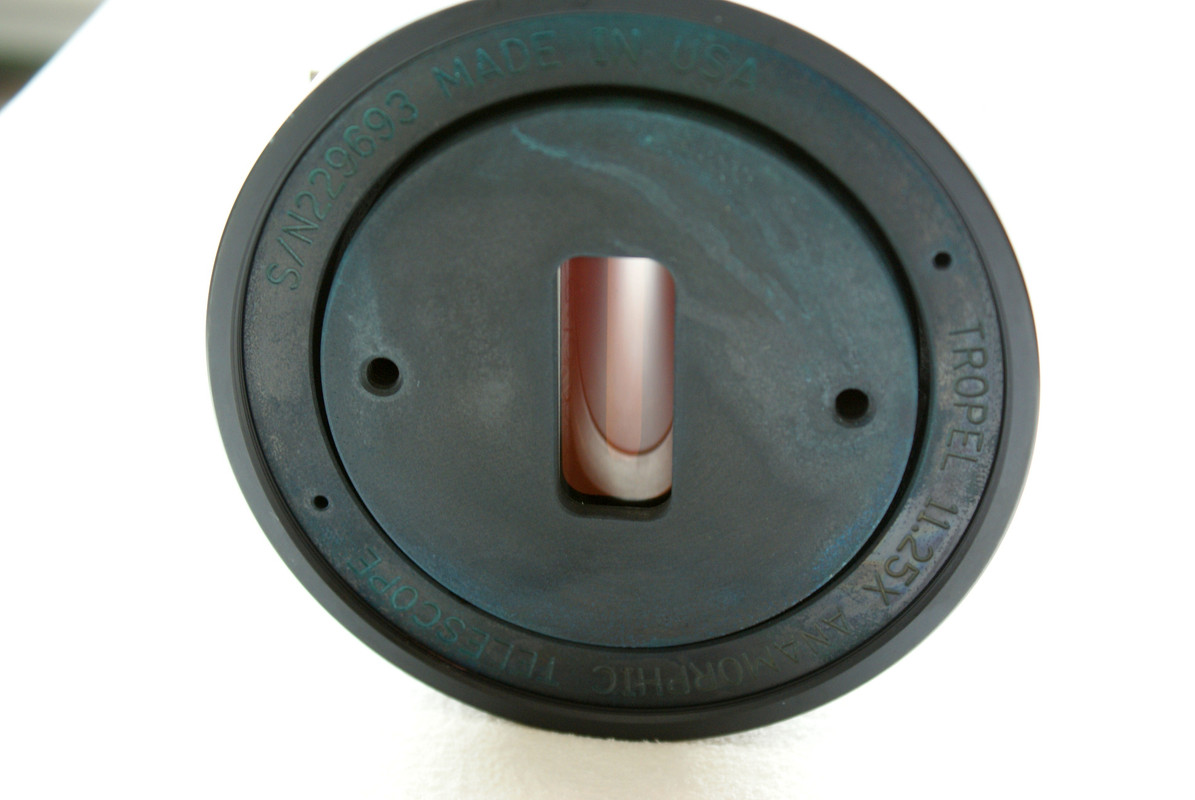 Had to boost colours so you could read the front, its not this bright in real life.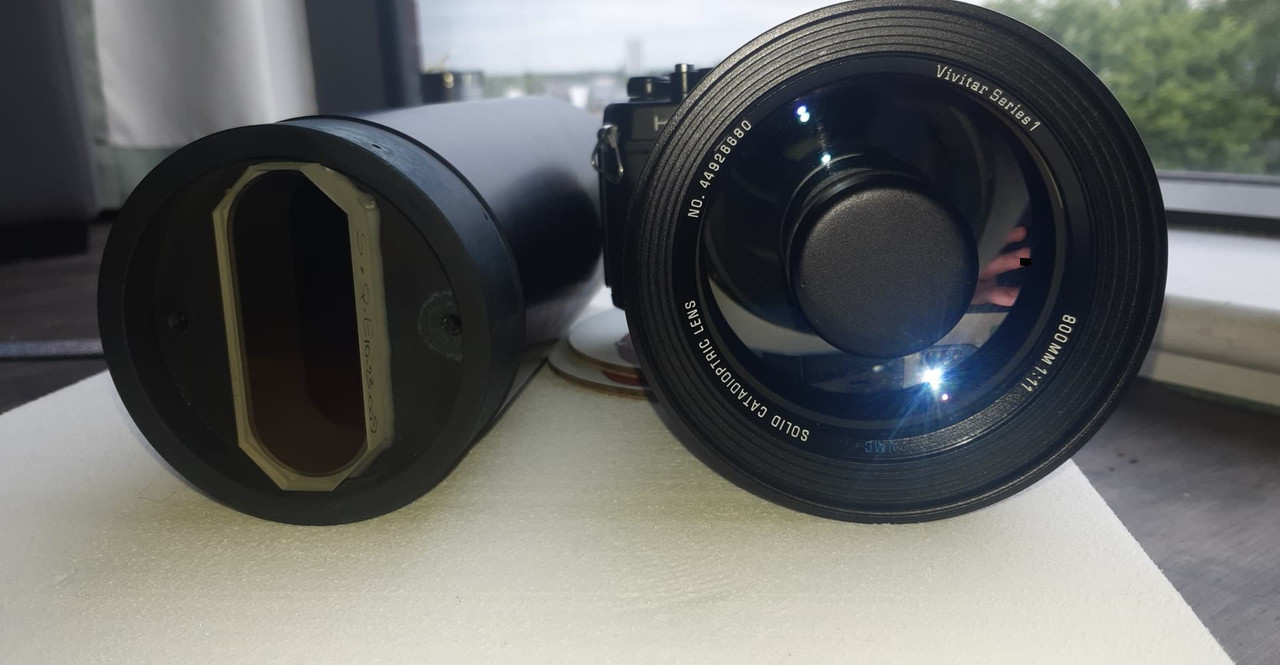 The rear, next to a Vivitar Solid Cat.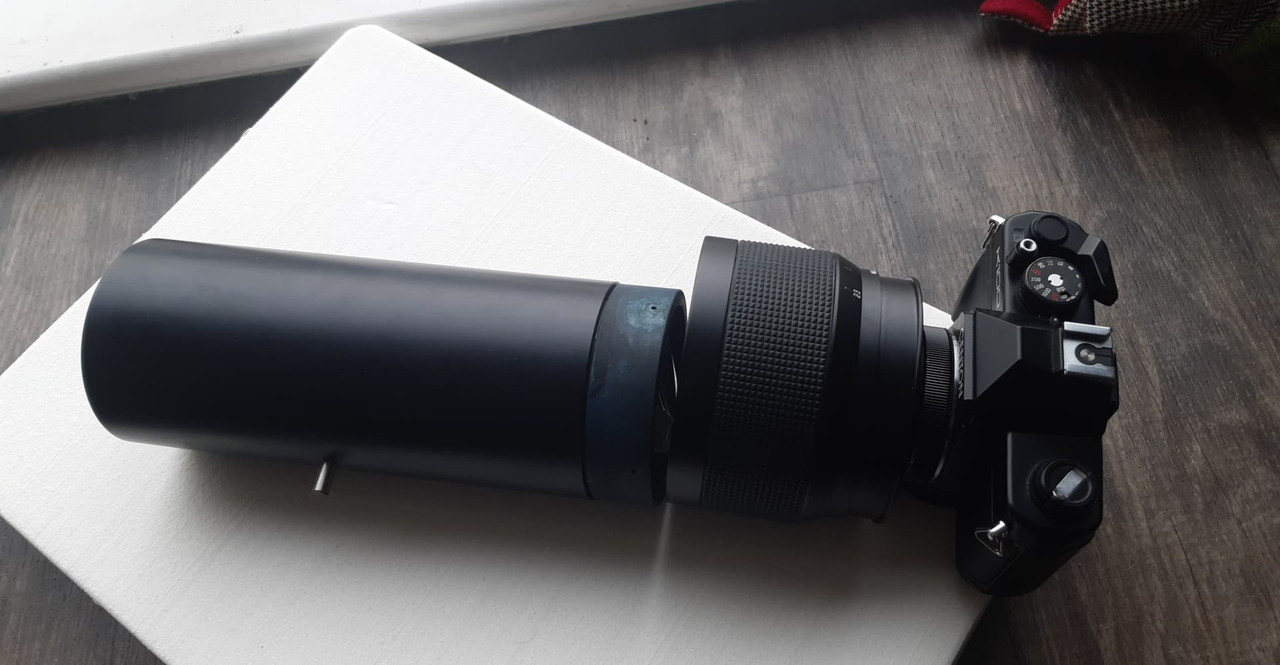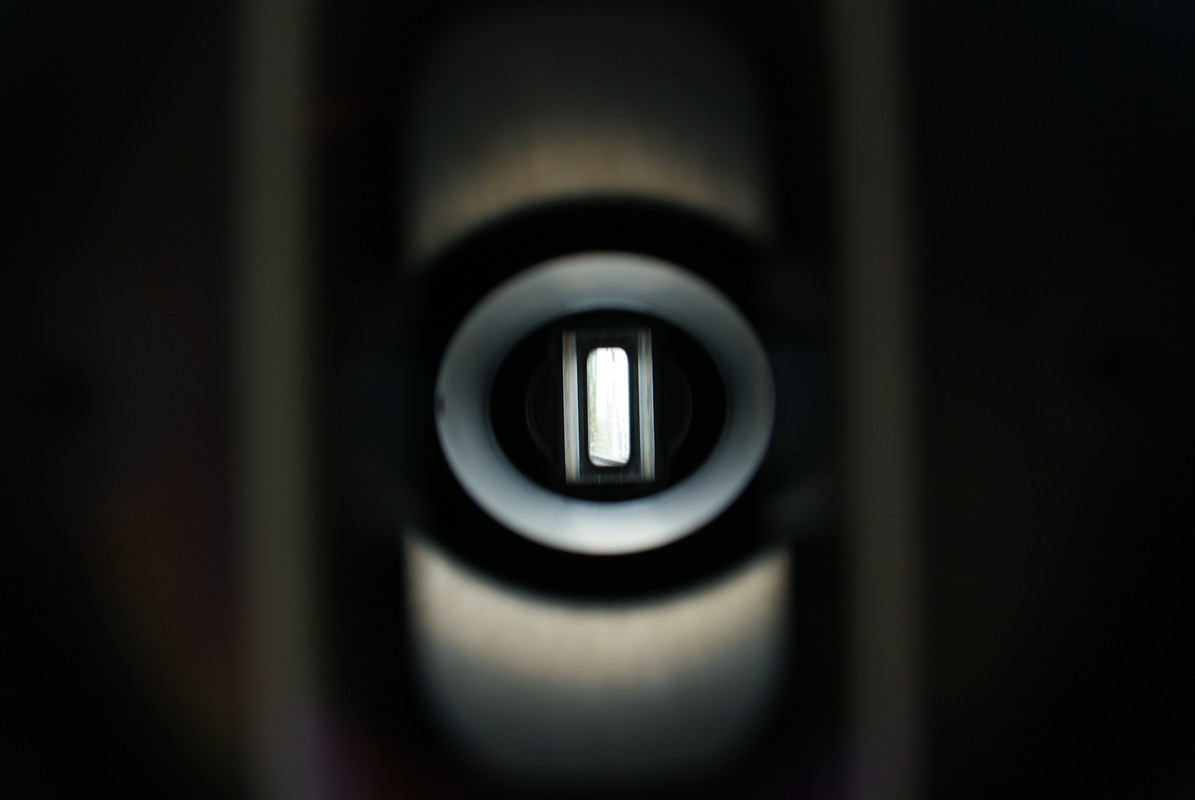 Not shown - lovely deep purple coatings on the front and rear.





This is what it looks like, if I remember correctly, at 70mm on APS-C, stretched out by 1125%.





...And this is what it looks like stretched out, handholding a 500mm f8 'wundertute' to my friend's APS-C camera, 750mm FF equivalent- proof that it works, but obliterated by CA.

Those were Photoshop screenshots, so I haven't got the originals to hand.


Complete enough diagram of the 11.25x
229mm overall length, 89mm overall diameter
30mm maximum width of rear opening, 70mm height of rear opening
30.5x12.8mm dimensions of front opening

Interior pic
Another interior pic
Looking through it the other way, no correction applied.


How to interpret all this? Well-

- Unsure if its corrected for chromatic aberration alone. Different lenses tried like the Vivitar in the photo did reduce it significantly enough to make me think there's still room for improvement, but I don't know whether it would be used with a narrow wavelength in semiconductor inspection.
- The minimum focal length for overcoming mechanical vignetting of the tube if the image is squished horizontally is about 640mm on 3:2 full frame (closer to 633mm but rounding up for safety). I calculated this from the HFOV derived from the length of the tube and the width of the front opening (pythag).
- The area of the rear opening, calculated as a rectangle and removing an approximation of the corners, has the equiv. area to a circular aperture of 49.4366mm, leaving an f stop of f12.94.
- The anamorphic compression factor lessens as you move your eye further from it. It's also afocal.
- There won't be enough 'pixels' to resolve enough detail on the horizontal axis on anything I can afford, so I will look to high resolution 135mm film instead, like Adox CMS 20.
- The scope will have its work cut out to do this!


From what I know, which needs second thoughts, what do I think this means for the design?

- The original set of "Tropel doublet"(s), all refractive, are too expensive to acquire and complete unknowns in terms of performance/what they're optimized for. And from what I've seen I don't think they would provide unique correction critical to the performance that I couldn't get elsewhere.
- I don't think I can afford refractors or refracting elements that would provide satisfying CA correction
- There is not enough aperture for any obstruction
- I will not get enough in return for the contrast loss from an obstruction
- I cannot afford obstruction-related contrast loss given the extreme compression factor's effect on detail
- Only an off axis medial refractor (Jones?) can maintain the compression factor with its refractive first element (not a zero power corrector) being made flush with the rear of the scope
- Any unobscured, reflecting primary design without this would have to reflect light very aggressively off axis whilst being so close to the rear, to the point of being too difficult to contemplate
- The small aperture and slowish speed could allow spherical elements to replace more complex shapes
- The fixed aperture of the scope makes it hard to consider designs with large numbers of reflections that may otherwise be compact (e.g. Herrig)

As you can see, this puts me outside of a number of typical options.

My unknowns-

- Could the rectangular shape of the rear element influence the design of the scope? Would I see a rectangular primary, and would that help in any way?
- How easy would it be to correct for the CA of the anamorphic component if it stills remains despite a CA free scope?
- Is the overall cost kept down by the small aperture size, or will I just have to machine these smaller parts more accurately? At what point does a small aperture become a hindrance and not a help?
- Don't have the knowledge on how to design something for close focus performance.


Priorities I haven't already mentioned-

- Compactness: whilst I'd like to stick this on a mount for astrophotography, I'd also like to explore doing handhold photography with it, given sunny weather. See the Vivitar Solid Catadioptric it was paired with in the photos, before realizing the rectangular aperture didn't fit around the mirror well. If the design is to be anything like a medial refractor then the on axis portion can't be any longer than the scope itself (23cm~), but that is dependent on how aggressively you want to clear the scope- e.g. the further back the primary mirror, the more parallel you can make the rays.
- Good performance at less than infinity focus: not very high given how this might change the whole design, but worth mentioning
- Adjustable aperture stop: not sure how flexible the placement can be, but as long as it isn't inconvenient.
- Somewhat durable, to be taken and handholded: leaves me concerned about mirror alignment
..... I am a beginner in ATM, and would prefer if I could obtain the parts off the shelf to then build around- I'm not sure I have the time to develop mirror grinding skills for one item, but I'll accept whatever I have to do.
- Covers 35mm full frame, film only!

Potential design discussion

A medial telescope seems like a good idea, but could be quite long out the rear. Two 45 degree flats could fold the whole setup parallel with the anamorphic scope, but I'm guessing it would cost a fair bit to ensure coatings with little light loss, and I'm not that pressed for options yet.

For sheer space considerations, utilizing the principles of a Reflaxicon objective could be interesting, if leaving it quite wide- I wonder if the rectangular aperture could help to keep it down. Could even be a solid piece of glass, which would tick alot of boxes, but I think CA correction isn't guaranteed. Probably beyond ATMing tools, expensive custom design would have to be contracted out. Don't have this money available.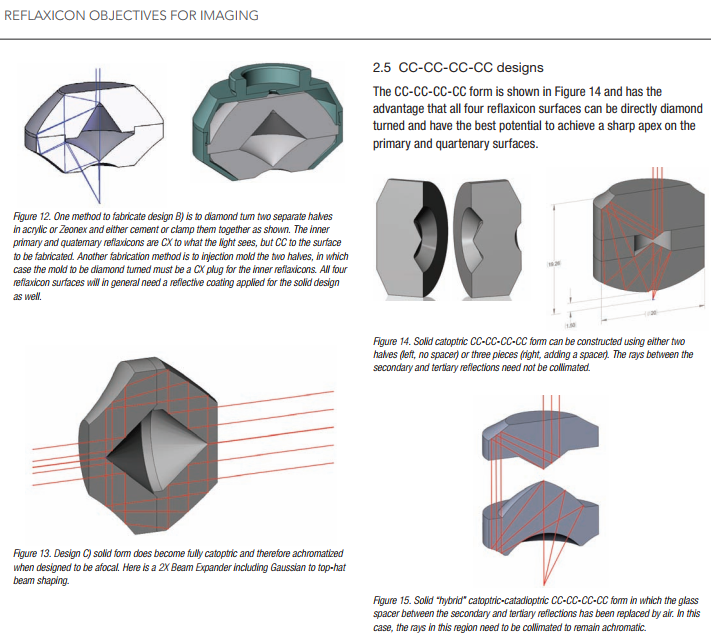 I think the category of designs I'm looking for are those that start with objective lenses at the front, but that could be applied to many unobstructed
designs. Here for example is a Hamiltonian-Yolo from Mackintosh's Advanced Telescope Making Techniques, which I don't have access to:




Having read a fair few threads here on Yolos and small ones, it's been the design I'm leaning to the most as its goes well with my limitations, and in the configuration above folds nicely over itself. I do not have enough knowledge to point out the differences between this and the Jones medial, and if anyone has a copy of the book they can look at I'd appreciate it ("New Horizons for Tilted-Component Telescopes" apparently is the chapter). At this small of an aperture and f stop I've seen people mention they don't need to be twisted into more complex shapes. Could a 3D Yolo be on the books?

I am curious to explore what an unobstructed, solid catadioptric design could look like, putting weight to the side here, and how it may reduce the length of the air gaps between mirrors. Maybe not relevant to this design, but a similarly sized aperture all spherical herrig, but solid could make for a very cool unobstructed travel scope. And maybe you wouldn't be so concerned about having to use two similarly sized mirrors when it's that small.

Calling all Ed Jones, Dave Shafers etc. What prescriptions would you come up with here?
Edited by Argonautt, 28 October 2020 - 05:59 PM.