You have the telescope, you have the eyepieces, but the odds are on that the weak link in your gear is your diagonal.
Some people say the nPAE Theia90 star diagonal, is the best diagonal they've ever seen. Other users have called it the "magnificent zenith of impeccable design".
As well as being CNC machined from a single piece of aircraft grade aluminium, the Theia90 comes complete with zygo report for provenance of the 1/10th wave mirror.
Are you a stickler for collimation and want that final tweak of perfection? Tweak on, the Theia90's mirror is collimatable.
Do you enjoy using filters in your observations? The Theia90 has a built in magnetic filter holder. A truly unique feature for a star diagonal.
Shipped complete with 3 filter holders and accessories, in its super tough mini Cerberus case, the Theia90 is available from the nPAE retailer network or direct from the United Kingdom.
Order before November 15th to guarantee delivery in time for Christmas.
https://www.npae.net...-star-diagonal/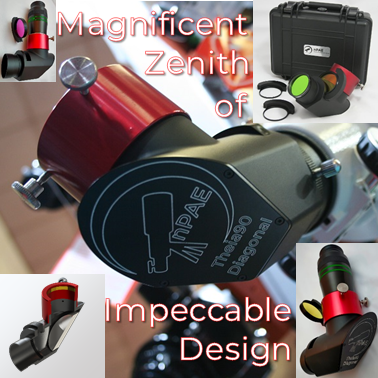 Edited by nPAE, 30 October 2020 - 11:26 AM.