PRELUDE
Besides a star party hosted by my college astronomy professor two decades ago, I hadn't spent any real time behind a telescope since I was a boy. Blame COVID. Or chalk it up to mid-life crisis. But when my wife and I decided to book a camping trip to Big Bend for this winter and I started imagining all those clear, ink-dark skies, I became obsessed with the idea of getting back into astronomy.
So for the past three weeks I have been frequenting (at least one guy would say, pestering) this community as I planned my return. It began with the inevitable (infuriating, I now realize) question: which telescope?
In my defense, my question did have some parameters. First, the scope should be capable of graduating to astrophotography down the road. I'm an amateur landscape photographer, you see. It is inevitable that I will end up trying to press some kind of sensor up against the light path of this thing eventually. Second, it needed to be semi-portable. Specifically, it had to be able to fit inside the 26"x22" bin underneath the bed of our camper trailer.
It will come as no surprise to any of the regulars on here, but very quickly I was thrown into the Frac versus Cass debate—between those who value the magnification and light-gathering capability of a medium-sized Cassegrain versus those who praise the resolution, color and contrast of the refractors. I learned so much from both sides. I had decided that I probably would want both, a widefield explorer and a "planet killer." But that my first scope would be the 80mm ED refractor. It was wide enough to take in much of the deep sky, but with the resolving capability to do some serious magnification for planets and more under good seeing. The focal ratio (f/7.5) was fast enough to eventually do some deep space astrophotography with, but just slow enough that it would be merciful to the budget eyepieces that I'd be using on it for visual astronomy. I put myself on the waiting list for a backordered Orion ED80 with all the trimmings.
But while I was eagerly awaiting the next sleigh to arrive from Santa's telescope workshop in China, a 150mm Mak, also by Orion, popped up used on the classifieds here. It had the mount that I wanted but couldn't afford a-la-carte, an alt-az GoTo mount called the StarSeeker IV that easily switches between manual and guided. I thought it would be the perfect Grab-and-Go mount. (More on that below). Moreover, for the price of a new 127mm Mak, I could get the extra light-gathering capability of a 6-incher. I pulled the trigger.
And almost immediately regretted it.
You see, in my mind's eye I imagined staging a minimalist, old school return to stargazing. Light, breezy scope and mount. Hand-cranked, so that I could learn my way through the night sky through star-hopping rather than computer guidance. The GPS in my car had already proven to me just how dumb automatic guidance makes me. Analog, not digital. LPs, not MP3s. Simple, not sophisticated.
Instead, when the scope came in I found myself in possession of an unwieldy marvel of 21st century digital technology. Like I said, I am a photographer of sorts. I'm used to hauling kit. But even I was astounded at how big and heavy a 12 pound Mak with a 14-pound alt-az GoTo mount really feels. Lifting the tripod and mount out of the box, I felt like I was holding a 3 foot long cast iron skillet. Awkwardly cradling the Mak in both arms as I tried to slide its dovetail onto the mount for the first time quickly turned to clutching onto it with no small amount of terror as I removed one hand to tighten the set screw on the Vixen mount. "Is this thing really only 12 pounds???" I puzzled.
Biding my time as the inevitable cloudy skies rolled in with the new toy, I observed myself with equal regret as my inner techie went to work downloading SkySafari Pro and getting the mount synced up with my iPad for point-and-click astro-targeting. "I better order a lithium ion battery," I thought, so I can power the mount without burning through AAs.
On the one hand, I could see my 13 year old computer nerd self, fumbling in the backyard on a warm summer night with his planisphere, his dot matrix star map printouts and his 60mm drug store scope. That kid would have been in total awe over the technology that was in front of me right now.
But this wasn't what I had imagined.
There were further complications:
How in the hell do you build a winter jacket for the Mak so that you don't get air currents inside the tube disrupting your viewing?
How wide (long) of an eyepiece can you put on a Mak for observing the beauties of the deep sky before you start bumping up against the limits of minimum magnification and exit pupil size? Back to the forums, where I discovered Astronomy.Tools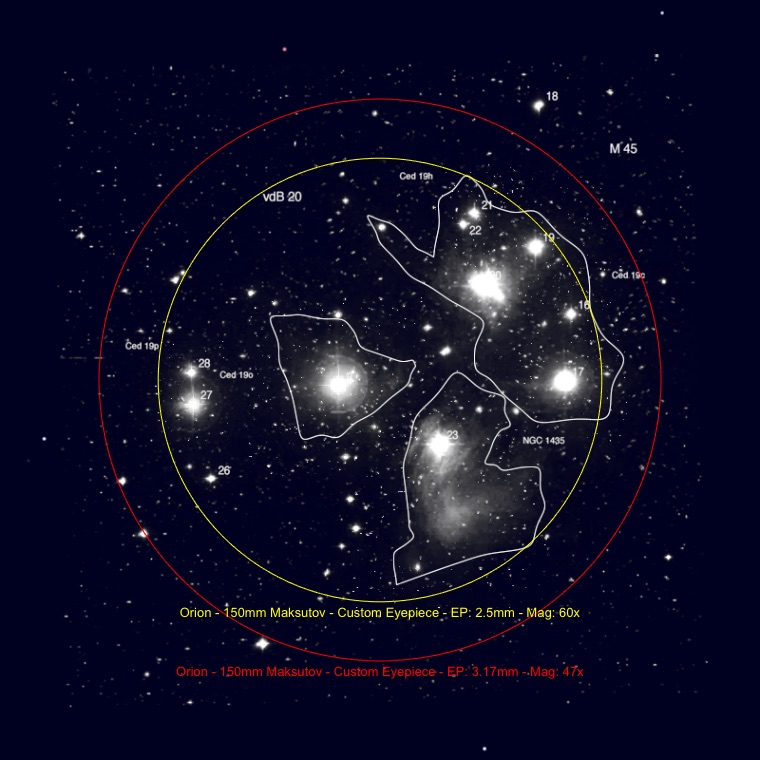 And in the back of my mind, there was still this question of Mak versus Frac in terms of optical performance. So when I saw a good deal on a used 80mm ED pop up on the classifieds page, I messaged the seller before I even finished reading the advertisement. Four days later, on Halloween, I was in possession of both the Mak and a Sky-Watcher Evostar 80ED. And somewhat miraculously, the clouds had parted.

There was going to be a shootout tonight.

Edited by Escape Pod, 01 November 2020 - 10:57 AM.

&nbsp