Ok i have to admit, title might be a little on the click bait side. I couldn't resist having some fun and being a little emphatic.
Part of what prompted this comparison was a discussion on Stabilization worth the hefty price and a review of my 15x50 plus an idea i had in the back of my mind for a simple mounting system with articulation arm that i wanted to try. https://www.cloudyni...ice/?p=10605671
But let's get to the results...
Binoculars:
Pentax 20x60 SPWP
Pentax 12x50 SPWP
Canon 15x50 AWP
Targets:
M29
M39
M32
Sweeping through Cygnus, Lacerta, Cass, Andromeda, Pegasus and back to Cygnus
Conclusions:
I will start with my conclusions because often some just want to scroll to the bottom and skip all the details.
And The Winner is.............. um........... well...........to be fair there can't really be a winner.
Each bino has one area where it shines and is more applicable /useful than the others, I will get to that 2 paragraphs down.
But one can have "preferences" - and these are different per individual.
This may be shocking to some; but after this head to head my results are...
1st place - Pentax 20x60
2nd place - Pentax 12x50
3rd place - Canon 15x50
This is not based just on the optics alone, but a conglomerate of factors / qualities. Also my preferences are influenced by how i prioritize certain qualities such as convenience and comfort, performance per dollar, quality, aperture as i have mentioned here: https://www.cloudyni...all/?p=10622164
For pure observation - not sweeping or peeking or finding - the 20x60 wins for me. To locate a target and really just observe it - the 20x60 does an amazing job for the money. This comparison is mostly based on Targets - and that's why the 20x60 wins - because it is suited for targets, not sweeping. The performance per dollar is just outstanding for my use. I think the 20x60 is the most overlooked and under appreciated astronomy binocular, at the same time it is the most controversial - all for the one and same reason - a 2.2* FOV. But if one is using it for targets then it that is where it excels. For me the drawback is not FOV at all - it is the 3mm exit pupil makes eye placement a bit more tricky, however once IPD and eyecups are set - this also is minimized. All other qualities are exceptional - sharpness, eye relief, light weight, comfort, and superficially... it looks nice too. Performance per cost is one advantage - to get a sharp 15x70 like this - well you will need to pay more than a 15x70 Skymaster Pro! Also Performance per weight is another advantage - a good quality 15x70 will weigh much more that this Pentax - requiring better mounting. For TARGET viewing - the 20x60 does as good or better than a APM 15x70 ( as an example) - and it weighs less - which allows me to use a light mount like the articulating arm.
The more i use my 12x50 the more i am impressed with it. The sharpness is so good and sooo close to the Canon that for me it gets 2nd place - such good quality for the money. However - it must be mounted to beat the Canon. That is the drawback. But again - for observing targets - a mounted 12x50 for me is so much easier than hand held - even if the Canon has a bit more power. Mounted the 12x50 view just hovers and is plenty wide for me and very comfortable. No drawbacks like FOV and eye placement. IT is just a SOLID bino with no compromises to complain about.
12x50 also works very well for sweeping unmounted. Because it does so well at both - for so little cost - it gets 2nd place.
The Canon is really the best sweeper - no surprise here. For sharp views with no mount it wins. BUT, i was also evaluating performance by observing targets - in fact 75% of this shoot out is targets. 3rd place DOES NOT mean it is inferior optically. It is probably the best quality - but the Pentax both keep up so well for the money - they take the cake.
Setup:
Partly this is a competition of similar aperture and magnification binos mounted vs. Image Stabilized 15x50
The articulating arm is a Manfrotto with a Ball head threaded to the top ( I used 3/8" rod to thread them together).
Pics from previous post here: https://www.cloudyni...wer/?p=10011918
However - in the past some tests and comparisons were compromised by "heartbeat" vibrations coming from the chair. Using the arm plus a tripod in combo with a chair can be a bit awkward. The legs push the tripod further from the chair. So i had the idea of staking a pole in the ground and setting a chair beside it. Pics at bottom of post. Using the arm and ball head takes some practice - and locking it takes patience as it can move when you let go - but the swivel lets me keep the arm locked and just adjust the swivel until i get the view centered.
Comparisons:
This is also a bit similar and a follow up to one of my posts here: https://www.cloudyni...wer/?p=10105332
Ok let's get to some details. As in the title this is a "mini" shootout - i didn't have time for a plethora of targets, and as there is a 3/4 waning moon + light pollution - lots of targets are not the best option anyway.
M29 and 39 were facing away from the moon in the NW. Andromeda is in the West which from my location a good viewing direction ( and other directions in the year put it over light pollution or close to moon ) .
M29 - I love this little cluster for pushing a bino's limits. This cluster was most rigorous test of the night.
I started with Canon 15x50 - direct vison was a cluster with no individual stars. i could only see discern individual stars with averted vision, but it was too hard to count any.
The 20x60 revealed 6 stars with direct vision - FANTASTIC performance. So much punch in a small package. This first test immediately brought expressions to mind such as "pocket rocket", "cluster buster", "giant killer".
The 12x50 had the same result as 15x50.
I went back to 15x50 convinced i should be able to get more out of it. Fiddled with focus, steadied as carefully as i could and really concentrated. i could barely count 4 stars switching quickly from averted to direct vision. it took concentration. So it did pull ahead of the 12x50 a bit in this test - as would be expected from the extra magnification.
I will have to go back in my logs for other observations of this target. But my feeling is that the 20x60 was competing with past views using my 25x100 - just stellar performance.
M39 - This target was out of convenience partly because it is so close to M29. This test is not really as rigorous and about pushing magnitude limits - more how qualitative the views is.
All 3 binos had a nice view of this target. But the 20x60 made it pop out. Perfect framing size and just pulled all the stars closer. Easy to count and study. The 15x50 and 12x50 were also good and close to each other - just a difference of a bit more or less mag and a bit more or less FOV. But the 12x50 seemed a bit better - because it was mounted - the view and sharpness - and that is why it gives 15x50 such a run for it's money - mounted gives it an edge. Having the image comfortably hover using the 12x50 just made it a bit more enjoyable.
M32 - Andromeda Galaxy. Similar in all three. But the 20x60 had the best contrast, 15x50 next, 12x50 last. From a darker location i have had really enjoyable views with 15x50. And during a new moon it would probably perform the best of the 3, and/or at least better than the 20x60. But with moonlight during this test - the 20x60 pulled ahead. Just proves that the best for Galaxies / DSO is not always the best - depending on conditions an unexpected bino could be better.
Sweeping - I looked around at different stars. Gave the reddish Garnet's star a bit of recognition. Hunted around for different objects. Well, no surprises the Canon is the best here. Hand held with sharp views - hard for the others to compete with that. The 20x60 definitely comes in last here - the FOV makes it harder to find targets. The 12x50 is very good but just not as sharp when i pause and study something for a moment. But i can get that sharp pause with the Canon. If sweeping is your thing or going out for quick peeks - then this is the only 25% of the test that really matters to you. I did slack off the tension on the articulating arm and the ball head and sweep with the 12x50 on the arm - this works VERY well. It's like having a third arm steady your binos. I can pause on a target and it is more steady than pure hand held and almost as sharp/steady as Image Stabilized. If i want to stay on target then i can just lock the arm, then adjust the swivel. I used this method on the double cluster comparing the 12x50 and 15x50 ( didn't bother with 20x60 on the double cluster but i should have included it in hindsight) - and again the 12x50 impressed me with how well it did. The 15x50 was a great view. But the rock SOLID view of the 12x50 once locked was just awesome - it made up for the -3 magnification.
Summary:
As i was already partial to mounted - some of my conclusions are not shocking at all. Ultimately the results are determined by what kind of observing style one prefers. For observing targets - the simplicity and comfort of the "stake mount" + articulating arm was a success. The steady views and hovering image are better quality and comfort compared to I.S. For Sweeping - I.S. has the advantage. With a chair - 12x50 does pretty good - and combined with the arm it sweeps very well and contends with I.S. If a person likes OBSERVE and uses a chair - they might find this shoot out very interesting - perhaps reassuring that I.S. may not be the Binocular Panacea. For someone who packs a bino for trips and hikes - with no regard for chairs or mounts - or who likes to just sweep for 20 min before bed - then only 25% of this shoot out really matters to them - and I.S. has the advantages.
For the observer who likes to spend time on targets - and does not really feel like forking out for I.S. - don't feel left out of the party - experiment with some mounting options. I would think combo of low mag + high mag binocular really may be a better option - especially for the budget conscious. Examples would be 8x42 roof for sweeping and 15x70 for targets. But if one is interested in an articulating arm then i would highly recommend the 20x60 + a 8x42 roof or 10x or 12x for sweeping - giving the benefits of I.S. and more.
Pictures:
Stake mount with cross piece ( for stomping into the ground)
The bottom portion is welded angle iron with a 1/2" nipple threaded into old aluminum pipe. I have a 45* fitting on the top bushed down to a washer and 3/8" thread protruding. This was part of an old prototype boom arm i used in the past for my 20x80 and trigger grip. I left the 3/8" in case it might be handy in the future for just threading a fluid head / ball head / trigger grip right on the top of it.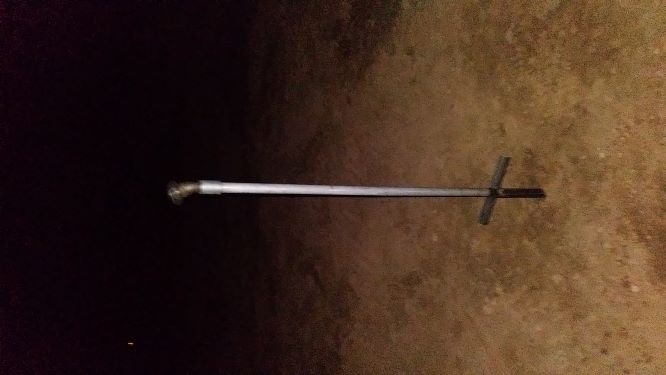 Chair and Stake mount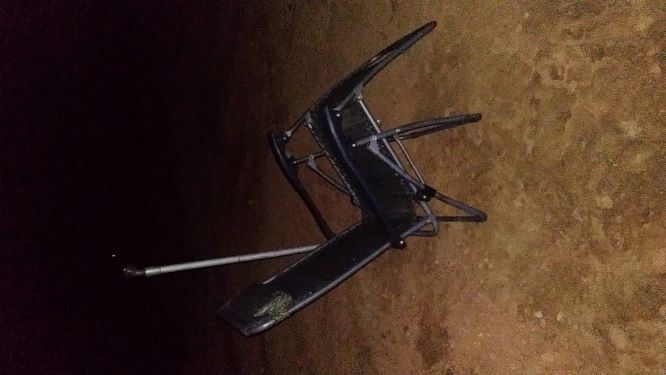 Pentax 12x50 on Articulating arm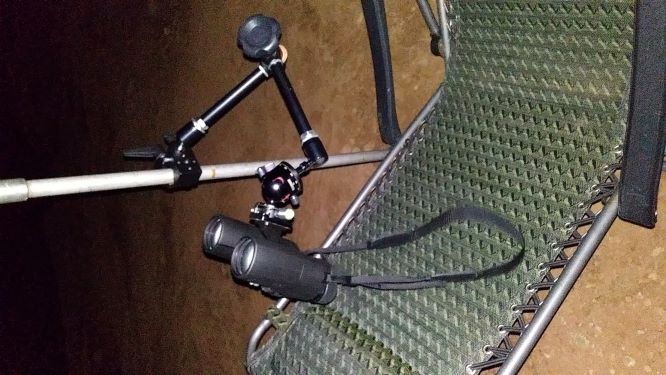 Views of 20x60 on the arm - Hard to get this kind of power without extra weight.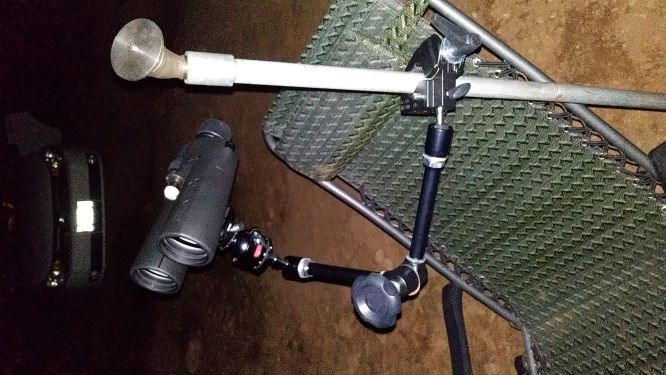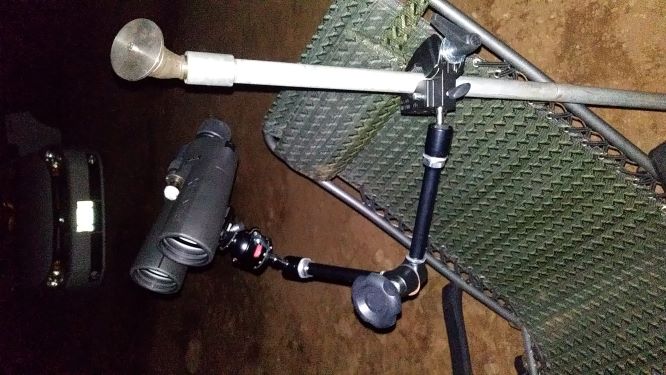 Edited by Nate1701, 05 November 2020 - 01:59 PM.