G'day all,
It was bloody hot at nightfall, but the forecast was for still air. So it was windy, with the outback winds enveloping me like hot blasts from a furnace. But at least the winds kept the kamikaze mozzies and light-drawn flying things to a minimum. The metallic hissing of the cicadas was nowhere near its finale at nightfall, and between gusts, they droned on loudly over the hum of the numerous aircon units around me.
I wasn't feeling the planets. Jupiter, while clear, was quite tame, and Saturn has been quite still (for me and my 7-in aperture) since 2018. So I eyeballed Mars for a bit. The transparency was good and the seeing was decent, but I already gave Mars some serious shooting last night. I was about to call it a night when I realized I was looking at Valles Marineris, and there was a very bright blob of high albedo something to its northeast. It looked akin to Hellas basin in the wrong spot, so I suspected a dust storm. So I bit the bullet and shot it: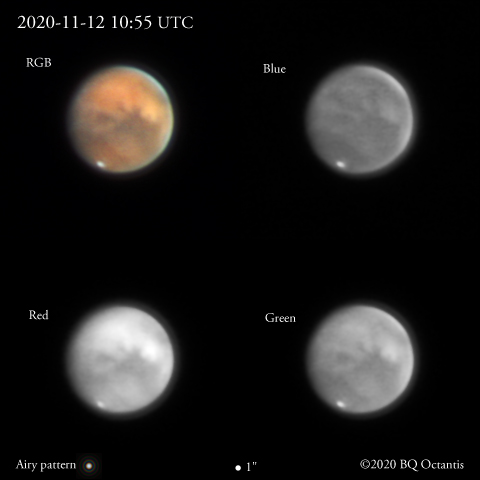 Skywatcher Mak 180, Fujiyama 12.5mm ortho, Canon 600D/T3i, 64 frames
Has anyone shot this recently?
BQ
Edited by BQ Octantis, 12 November 2020 - 04:13 PM.