When imaging the Moon on November 2nd, seeing was fairly good for where I live, but was still turbulent enough to make ascertaining critical focus a bit of a challenge. Imaging the whole Moon during that phase for a mosaic requires at least 5 panels to get sufficient overlap to create the mosaic with my 8" EdgHD and QHY183C camera. I try and check focus prior to each new video. I prefer not to touch the focus once I get the first video, but sometimes it is needed (or at least feels needed). A problem can arise when you second guess yourself and move a hair off critical focus. This happened to me when I was evaluating focus on my second video. It looked slightly off, so I readjusted focus. I use a Celestron Motofocus which works pretty well. It represents focus in ##,###, with each 1,000 units representing a single turn of the focus knob on the rear cell. I can't remember the exact numbers, but I do remember the difference in the focus number between my first and second video run being 4. As an example, the first video run had a focus point of say 16,804. For my second video run, I changed the focus point to 16,808 - so a difference of 4 units. That is equivalent to 1/250th of a turn of the focus knob on the rear cell. A very minute change in focus.
It turned out I was slightly over-exposing the Moon when I moved on to try and image Panel 3. As such, I felt I wanted to go back to the general area of Panel 2 and reimage. Again, looking at the focus, it seemed just a hair off. I readjusted and went back to my initial focus point of 16,804 and retook the general area around Panel 2. I then ended up leaving the focus the same for all remaining panels (a total of 5, not including the reshoot of Panel 2). Seeing appeared to remain consistent throughout my imaging session. This was further evidenced by very similar quality graphs in AS!3 for all video runs. While the quality graphs are not absolute, consistent graphs between the runs typically indicate consistent seeing.
During processing I found that Panels 1, 3, 4, and 5 were tach sharp. The first video run of Panel 2 just wasn't as sharp. Fortunately, my redo video of Panel 2 was tach sharp, and I only had a small amount of overlap that required the use of my first video of Panel 2.
Below is a comparison of the sharpness of two different runs of "Panel 2". The image on the left was the redo video which was sharper, the image on the right was definitely less sharp when I unfortunately second-guessed my focus and moved slightly off critical focus. All processing between the two runs shown below are identical. I am feeling that any changes in seeing were negligible, so I feel quite certain the difference in sharpness is primarily attributed to change in focus. Again, the difference is only 1/250th of a turn of the focus knob on the rear cell. This just goes so show how precise the focus needs to be to get a good result.
(Be sure to click the image for full size!)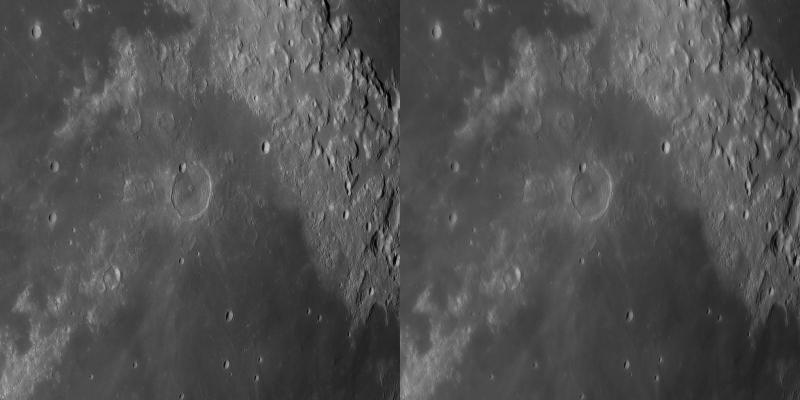 It turns out you can process your way out of this problem and not really see the difference between the two images, but it takes lots of work!
Edited by aeroman4907, 13 November 2020 - 07:08 PM.