Time to add this one to the registry: 643093
This is the scope that was on Ebay about a month ago. The pictures did not make it look very good. The seller wanted too much for it, and I talked him into selling it to me for 1/2 of what he was asking. This is the one that had the tube painted flat black.
I knew it would need work, everything looked very dirty. I was hoping that underneath all that crud, was a Swift, and maybe it wasn't as bad as it looked. I knew many things were missing from the kit, like the mount and tripod, but it had most of it's accessories.
Well, holding it in my hands was another matter. It was worse that the pictures showed! There were many little things that were missing. I complained to the seller, and without going into the details here, he refunded me 25%. I thought that GW sometimes packed things badly, the seller's packing job was the worst I have ever had. When I pick it up off the porch and brought it in the house, I could hear things rolling around inside. Not good! The guy also put it some packing peanuts, nothing worth while, and a few crumpled up newspaper pages. Just a feeble attempt.
The focuser cleaned up nicely, and works smoothly. The chrome is in great shape.
The tube doesn't have any dents. In starting to strip off the black paint, I found that some of the scratches were down to the metal. The tube color is that "pinkish" white. I'm going to take it, and the finder tube, and get them both powder coated. Hopefully, it will be a close match to the original color, and if its not, at least they will match each other.
The finder is in great shape, and the lens cleaned up nicely. It is missing the x-hairs, but that is not a problem. The lens only had two of the three spacers.
The main lens cell and dew shield . . . oh man, what a chore! The lens was dirty on both sides. After some initial attempts to take the two piece dew shield apart over a week ago, I had success today. I had to buy another large strap wrench. I tried just about all the liquids around the house to loosed the two halves, and they finally gave in to my grunting and cussing.
The lens, to my surprise, cleaned up very nice. I think it actually looks better than my other 831. I removed all the dirt and hardened grease from everything, and put it all back together.
Here's a shot thru the lens: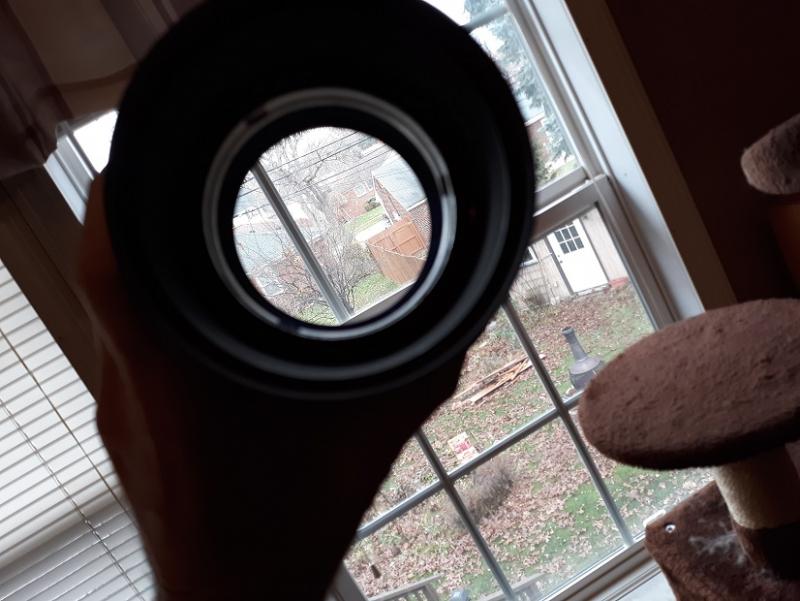 -the picture just doesn't show how clean it is.
I will keep this updated as I continue with this little project. There's lots to do.
Edited by Garyth64, 14 November 2020 - 04:45 PM.