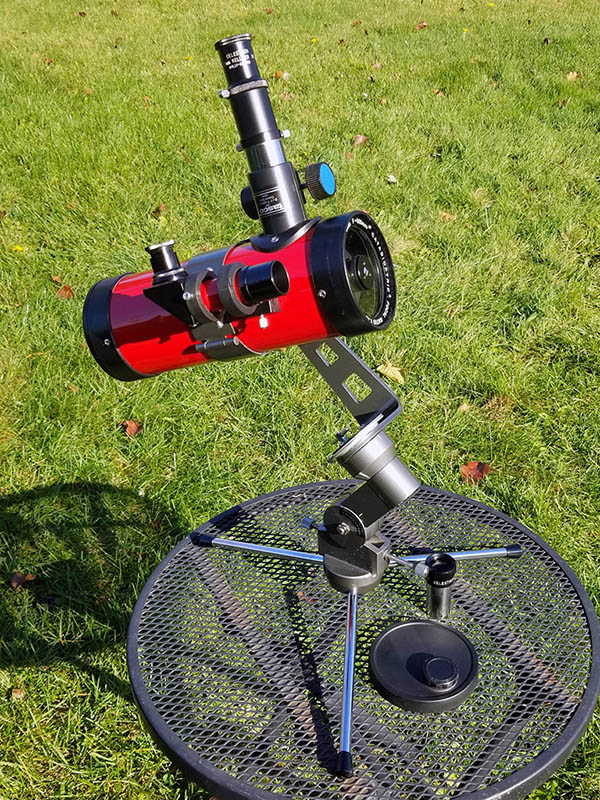 I recently had a chance to pick one of these up at a reasonable price and I decided to take this as an opportunity to take a peek at one. I was particularly interested in finding out whether this was a Schmidt-Newtonian or a Bird-Jones. As it turned out, it's a Bird-Jones and if I had know that I probably would have passed as I have yet to see a well executed example and all of the ones that I have used were of poor quality. Fundamentally, there's nothing wrong with the Bird-Jones design and I always thought that it was a neat idea (placing a small corrector after a spherical mirror instead of a full aperture corrector in front of a spherical mirror), but all of the commercial examples that I have seen have done a very poor job with the corrector. I most cases I suspect that the corrector is little more than a Barlow and really offers little, if any correction. Much to my surprise, even though further research produced a long list of poor reviews, this little scope proved different.
The Tasco 132T is a 76mm f/7.9 Bird-Jones Newtonian with an adjustable secondary and fixed primary. It also features a generous amount of back-focus to accommodate a 35mm camera and comes with a removable extension tube and a t-thread camera adapter. This feature comes in handy when using a 0.965"/1.25" adapter since removing the extension tube also accommodates the longer barrel of most 1.25" eyepieces. More on that in a bit.
This example was complete and came with everything that it was originally supplied with, complete with the original owner's pamphlets, instructions, and the little screw-in moon filter. It didn't come with a solar filter (and it never did), but I thought that the tiny off-axis aperture in the dust cap was cute. Overall, the scope was more robust and of a higher build quality that I was expecting. The mount is a little odd, but I got used to it fairly quickly. I like how you can easily convert it from equatorial to altazimuth and back. The altazimuth configuration is very comfortable to use and the equatorial more is handy for use to make it easier to track while using high magnifications.
Like most telescope of this genre they had to cut corners somewhere and the scope came with the usually set of awful Huygens eyepieces and poor finder, though the finder on this example was functional; not great, but functional. I didn't spend any time using the original eyepieces (I did that when I _much_ younger) and I'm letting the finder go for now. (I have a laser pointer that fits in these old finder rings.) In recent years I have collected a nice set of Celestron (circle T) 0.965" eyepieces that work very well and a 1.25" 20mm Meade RG wide field that works perfectly in a 1.25" adapter.
When I unpacked the scope it appeared to me that it may have never been used and it was pretty dirty inside and out with lots of out-gassing scrum on the inside of the window and on the primary, so I took it completely apart, cleaned it, and put it back together. That's when I found the corrector in the draw tube, marking this as a Bird-Jones. However, I was encouraged that the corrector looked like a very well made cemented doublet that was nicely mounted, not a singlet stuck onto the end of the draw tube. (I recently read the original paper on the Bird-Jones showing the corrector as a doublet, so I took this as a very good sign.)
I did a quick check of the collimation and it looked fair, so I left it alone. The night was clear, so I brought it outside, set it up on a small table in equatorial mode, and took a peek at Vega using a 40mm Kelner. The view wasn't great, but it was also only 15x. I switched to an 18mm Kelner (33x) and the star shapes were awful, as expected. However, the out of focus image showed that the collimation was whacko off, so I brought it back inside for a closer look. As-built, the secondary can be adjusted, but the primary cannot and it looked like the primary was the culprit. So, I removed the mirror cell and added 3 small pads of foam rubber under the mounting screws to give me a little bit of adjustment range on the primary. I took it back outside and tweaked the collimation of the primary using the slightly out of focus star image using the 18mm Kelner and I was able to get it pretty close. It was amazing to watch as the star images went from comets to nice round circles with beautiful little diffraction rings. Bingo! The image blossomed into a fine field with the 18mm Kelner. I then went up to 83x using a 2.5x Barlow and while not perfect, the field wasn't too bad. I suspect most of the defects that I was seeing was from the secondary, which is relatively large for the aperture. Mars showed a nice disk was a fair amount of detail, and while I couldn't quite split the Double-Double, it was reallll close! Because of the large secondary the telescope's performance reminded more of a 60mm refractor than a 76mm, but in a very compact package. I dropped the scope back into alaz mode and spent the rest of the night star-hopping bright stars and open clusters using my Meade 20mm RG wide field. The Pleiades look fantastic and fit nicely within the field of view, the Double Cluster was wonderful, and the Owl Cluster was darling.
I'll be making a dew shield for this scope (I made a temporary dew shield using construction paper for first-light) and add a Vixen finder mount so that I can add a 30mm RACI finder. The eyepieces that I have work fine, and I may even try out the camera adapter. I'm going to take another look at the mirror cell and see if I can make a better adjustment mod.
Sooo, my experience with this scope is similar to others of this vintage and price point; replace the eyepieces, add a useable finder, use a light touch, be patient, adjust your expectations to the size of the scope, and enjoy the little things. I may have gotten lucky and received a good example, but I was pleasantly surprised with this little scope. The one gotcha was not being able to adjust the primary. Without that this would have been a dud. But with that simple mod this blossomed into a fine little scope and it should serve me well as a cute little star-hopper. I have _finally_ found a functional Bird-Jones!
Enjoy!