Hi eveyone,
NGC 520 in Pisces is not easy to observe. Depending on the conditions, a sky a little less dark or a little more humid, and you can hardly see it. I observed it in two different locations, both Bortle 4.5. In September, impossible to detail it. This time, in November, it showed his face.
Located about 100 million light years away, it is actually 2 colliding / merging galaxies. It also bears the Arp n°157. Its mushroom shape reflects a very disturbed morphology with tidal tail and dust lane.
Clear skies,
Francis
16" Dobsonian, eyepiece observation with Ethos 13mm and EAA with SiOnyx Aurora NV camera in afocal mount behind a 25mm Celestron eyepiece, good conditions of seeing and average transparency. Drawing on black Canson with pastel pencils. Photography and digital formatting.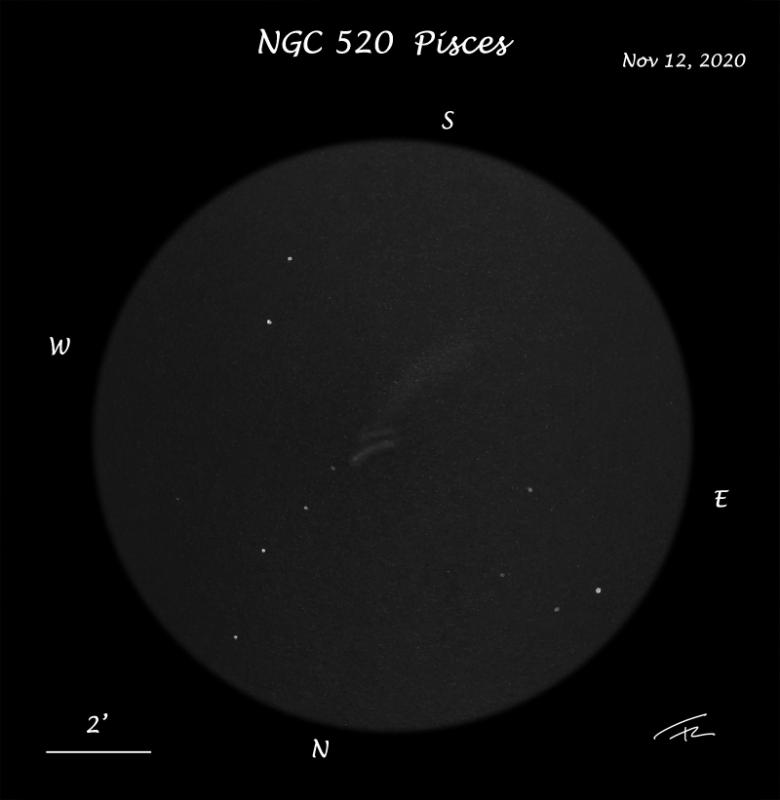 Edited by FRANC LILL, 16 November 2020 - 06:05 AM.