Finally last night a good spell of clear after the continuing procession of un-forecast cloud.
With the 12x65s, extra-focally, made the comet 8.3. Using my wife's Swift 10x50s I could just fit Atlas and the head of Orion (Cr 69) in the 7º field. Had they fitted closer I might well have sketched that very nice field also. But I could see more cloud crowding in the west; putting any notion of doing that scene anyway right out of mind.
Looks as though I got stars fainter than mag. 11 on the sketch but perhaps only near complete to a magnitude brighter.
A little haste creeping in: the seeing had been steadily improving with Mars and I decided to get to bed for an early rise to get Mercury. Likely my final (4th) Mercury attempt this elongation........alas as with before seeing too poor (Venus a hopeless blur) and un-forecast cloud building that direction.........~maybe~ one more try tomorrow a.m.....Dave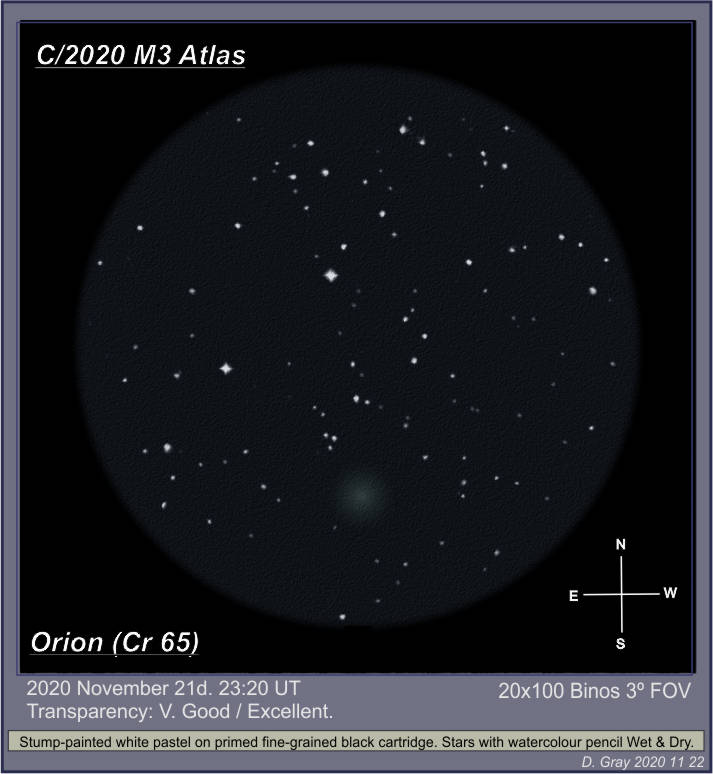 Edited by David Gray, 22 November 2020 - 08:45 AM.