I first became interested in the study of how aperture size is related to magnification and exit pupil as a result of having to contend with spates of bad seeing because of which, I have many times been limited to 200x magnification or lower. In such circumstances I would ask myself, "If I had more aperture (i.e. larger scope) would it improve my observing and the images obtained when my magnification is limited?" Another way to ask the question is to consider being limited to 200x and you have a 16" and a 20" telescope to observe with, how would they compare? The following is a presentation of what I learned. Unfortunately, I can't rely on direct observation as I don't personally know a single soul within a 1000 mile radius that has a telescope let alone a 20" that I can look through. Therefore my analysis is solely based on the governing mathematics and image graphs.
Magnification, aperture, and exit pupil are mathematically related. A change in one variable will affect the other two. Normally, aperture is a fixed value as it is the size of your primary mirror. Aperture won't change without the purchase of a new telescope with a hopefully larger or sadly smaller mirror. Aperture being fixed there is a linear inverse relationship between the other two variables, meaning as one goes up, the other goes down. Stated another way, as you increase magnification, your exit pupil decreases. As a result, while the image gets larger as you increase magnification, it also becomes increasingly darker. For example, suppose you're trying to observe M51, the Whirlpool galaxy. You may put in a low power eyepiece and notice that while it is bright, the image is not large enough to see the details well. In order to see the details more clearly, you increase magnification by inserting a higher power eyepiece. Now however, the image is too dark to see the galaxy well.
What happens if you increase aperture?
Continuing the previous example, you can't see M51 to your satisfaction, so you make a decision, "I need a bigger telescope". You purchase the telescope, set it up, and once again slew to M51. What do you find? You have had an exponential increase in the brightness of the galaxy. You may not be thinking about the math or understand it at all, but you will sure be smiling. Demonstratable by mathematical analysis, as aperture increase for a given exit pupil, the image will get larger exponentially by the second power. Similarly, for a given magnification, increasing aperture increases the image brightness exponentially by the second power. The following spreadsheet summarizes the mathematical relationship between Magnification, Exit Pupil, and Aperture.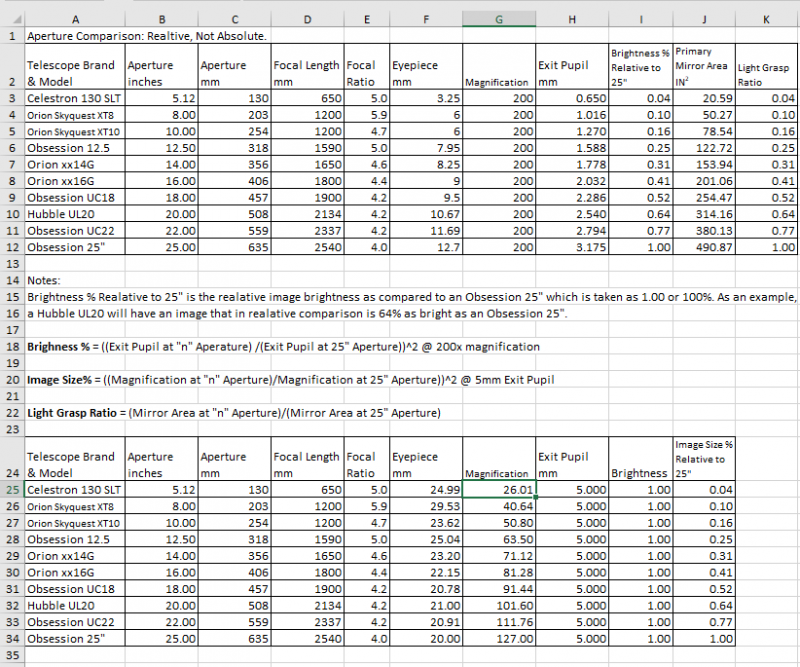 Something I find very interesting that acts to verify the results, is that the Light Grasp Ratio, which is simply the ratio of each lower mirror area to the area of the 25" mirror, matches the ratios obtained for Brightness % and Image Size % each of which is calculated with different variables than the Light Grasp Ratio. The equations used are listed under "Notes" in the spreadshhet.
Here is a graphical illustration of how aperture affects image brightness: What you're seeing is what happens when you hold the magnification constant and decrease aperture or mirror size.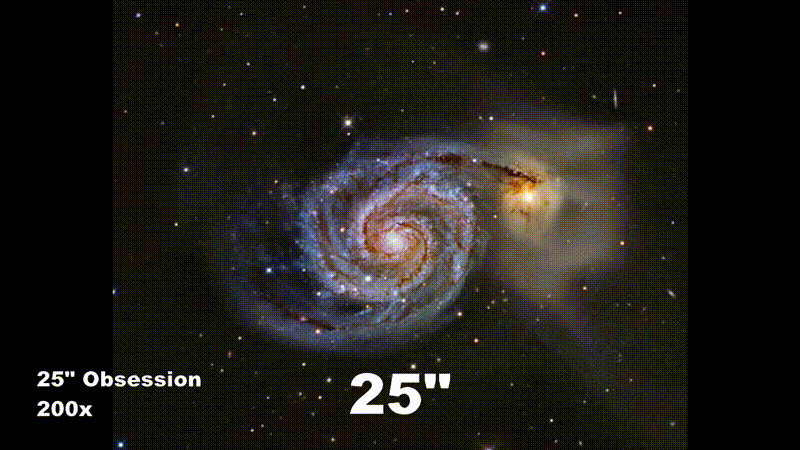 I credit TOMDEY as he posted a graphic in times past similar to the ones I am posting here that helped me to understand this topic. His graphic also inspired the creation of these gifs. Thank you Tom.
Edited by Glory Eye, 27 November 2020 - 12:16 AM.