Here is a composite image from the 2015 Perseid meteor shower, one that I call "Polar Perseids". The shower radiant is outside the FOV on the right. It shows the result of a simple method of capturing meteors.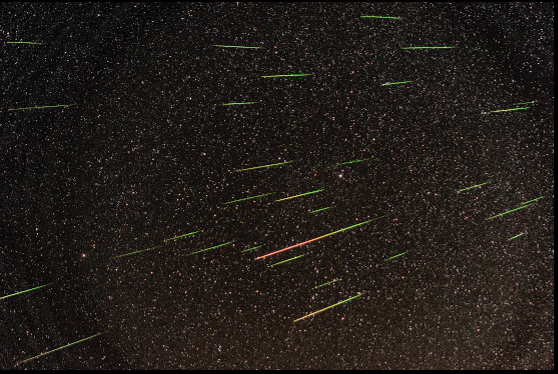 This was assembled from a series of 35-second exposures on a fixed tripod (no tracking). The lens was a fast, middle wide field lens - a Sony 35mm f/1.8. The technique is quite simple, at least for capturing the individual meteor trails. One just points a fast lens at the celestial pole. Polaris is near the center of the FOV, with the rest of Ursa Minor extending to the left. This allows for 35-second exposures with minimal star trailing. The longer exposure results in fewer individual frames that must be sorted through to find bright meteors. The number of meteor trails captured depends mostly on the lens aperture (19mm in this case) along with the focal length & sensor size (or equivalently the field of view covered). The length of exposure (35 seconds) is mostly irrelevant. Individual meteor trail exposure is set by the duration of the meteor, around a second (depending on the characteristics of the shower). Some showers produce fast and colorful meteors, like the Perseids. Others like the Geminids are slower and less colorful. One must balance field of view with aperture. Too wide a field (i.e. fisheye) results in small aperture (i.e. 3mm). While the entire sky is covered, only the very brightest ones will be well captured. So a focal length from perhaps 15 to 35 mm is a nice compromise. But it must be fast, that is large aperture.
Edit:
Important note:
In my opinion (we all have one, don't we), ​shoot wide open. Don't worry about what that might do to the background stars. You can always shoot a single separate background star image, stopped down to give nice star images. Individual meteor trails (with bad star background cropped out) will be added to the background image with nice stars. Any wide open lens aberrations will have little effect on the meteor trail. Since the meteor isn't a single point like a star, the worst effect will be a broadening of the trail's width. Better to have a slightly wider meteor trail than not getting one at all, or having the trail be weak. You want to gather the most light possible for a swiftly moving piece of sand blasting into Earth's atmosphere. So my best advice is shoot wide open!
The only complicated part is assembling the composite image, showing all of the bright meteor trails captured during the shower. I will supply the technique used for that in later replies to this thread. But the overall simple process can produce some nice results that could be employed in the upcoming Geminid meteor shower. Most years this one is the best shower.
Clear Skies,
Russ
Edited by Rustler46, 28 November 2020 - 12:00 AM.