Hello, this post is about eyepieces and microscopes...
but NOT about using microscope eyepieces for astronomy!
And it's not serious.

Well, flatter, it is true.
I've realized that eyepieces and microscope objectives have almost the same design!
In fact, they do a very similar job; only aperture and image get swapped: the exit pupil of the eyepiece is the observation area of the microscope objective.
The "eye relief" is the working distance, and the angle of view corresponds to the objective NA.
I tried a couple of microscope objectives, and it works. Sharp? I don't know, needs more testing. Wide? not much, the widest I manage to look through had 50 degrees. There are wider, but with very short working distance (eye relief).
For those with unlimited money and craving for the ultimate eyepiece, that may be a new good drain

: there is plenty of those "long working distance" objectives, rigorously Apo and flat to less than one micron. Prices starting at 2000$.
Below the scheme of an eyepiece and a microscope objective, so to convince you.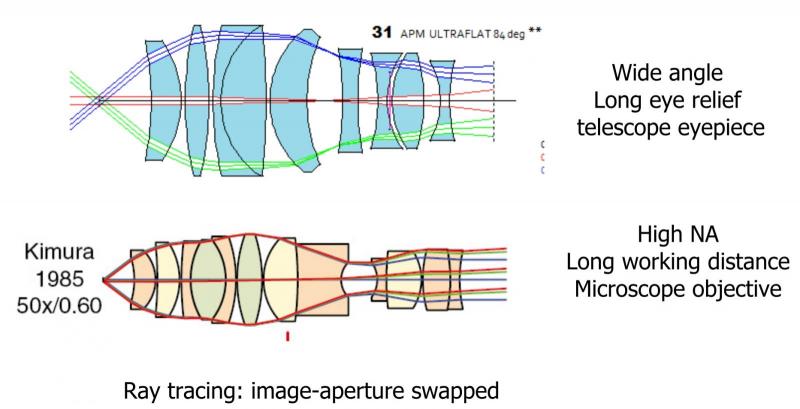 Images copied from: Eyepiece Microscope objective
Edited by patta, 02 December 2020 - 09:16 AM.