NGC7822, a young star forming complex in the constellation of Cepheus. This complex is about 800-1000 parsecs from the Sun and contains pillars of creation-type star formations. Taken over the past couple of months at my telescope's location in New Mexico. This image uses the Hubble palette (SHO) where Red=SII, Green=H-alpha, and Blue=OIII. This SHO image also includes RGB data for the star color. A total of 41 hours of narrowband data and 6 hours of RGB data. Processed in PixInsight.
Data
Ha 82 x 10 min, 1x1
OIII 82 x 10 min, 1x1
SII 82 x 10 min, 1x1
R 24 x 5min, 1x1
G 24 x 5min, 1x1
B 24 x 5min, 1x1
Darks
50x5 min
50x10 min
Flats
32 flats per filter
Bias
100 bias frames
Equipment
Televue 76
QSI 683 CCD camera with Astrodon LRGB Ha OIII SII filters at -20C
10Micron GM2000 HPS II mount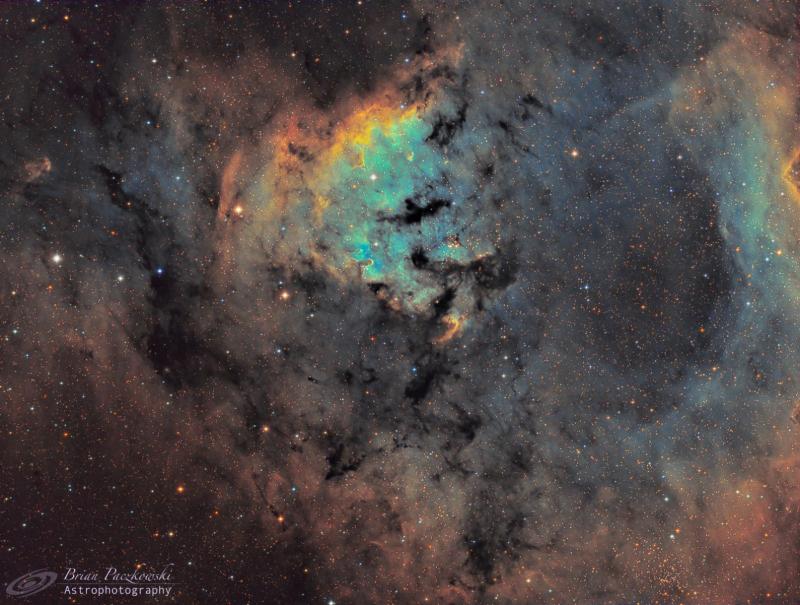 Edited by bpaczkowski, 04 December 2020 - 12:31 AM.