So got a new mount and first night with the C11 was spending the evening working on guiding, but I had to point somewhere. Due to wind I was limited in direction, and picked the heart of the heart nebula. Randomly, did not try to frame anything in particular (and really should have gotten more of the upper right side I think), and did narrow band because the moon was near and bright.
So I wasn't expecting much, and did not get a lot of data (about 11 each band, 600s subs, 2800mm @ f10, ASI6200MM bin 2x2 gain 100).
So with all those caveats of why this is not an impressive photo I could use some advice. Is the level of detail about what I should expect? To me the stars are round but a bit bloated and not a lot of detail in the nebulosity. I'm not sure I know how to judge seeing; PHD2 said the RA osc was about 0.3 or so if I recall.
I did not do anything to reduce star size -- I'm not trying to make this better, it is kind of boring to me, I am trying to understand if optically and guiding wise it is what I should expect.
I integrated to a synthetic luminance and the PI tool says median eccentricity is 0.4158, so like I said, stars seem round. Just a bit big. But it's maybe my third NB image, so not sure what to expect. Also I did not have a lot of experience with the C11, especially at 2800mm, since it rides kind of heavy on my old mount.
So... what should I expect, and how does it look in that regard?
Here's a CN size: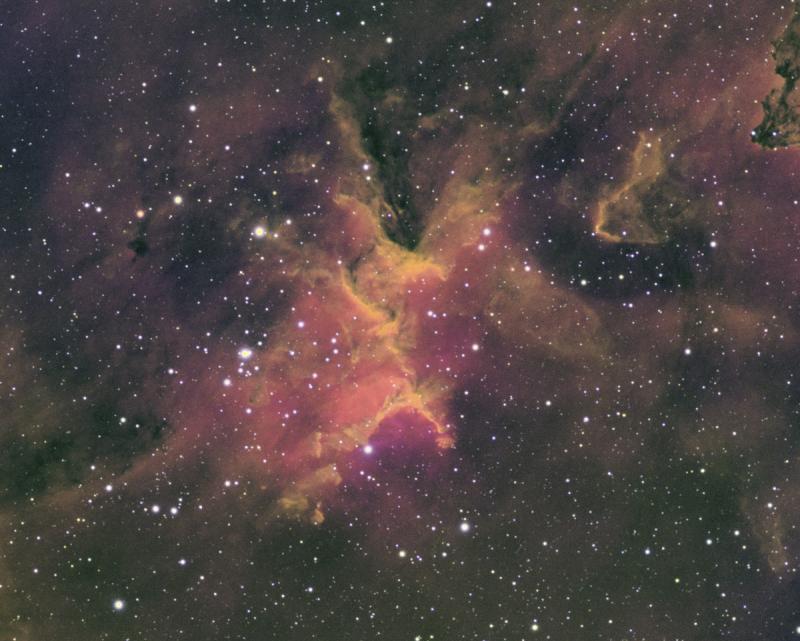 Here's a full size image (46 megabytes):
https://www.captivep...O/i-ZkrsdTF.jpg
Post processing: usual calibration, took top 5 for star alignment master, then aligned all to it, drizzle integrated, blend HSO though I increased O quite a bit (square root for nebulosity), photometric calibration, integrate HSO to synthetic luminance and blend it in (I'm wondering if that contributed to the bloating, using all three channels for luminance). Color tweaks in photoshop.
Edited by Linwood, 04 December 2020 - 06:14 PM.