I have tried and tried to make peace with my decision to buy this scope, but I am done trying to make it better..
I bought the Flextube becuase I wanted to be able to use my .73 focal reducer/coma corrector and I saw the Flextube as a "short cut" to getting there. An added bonus was that I was able to reach focus with binoviewers using a 1.7x GPC and even at native focal length (no GPC) though this cost about half inch of aperture, which is not an unacceptable compromise to me.
The latest problem was a new neighbor that likes security lights on at night, and this necessitated the fabrication of a Kydex light shroud and this added even more weight.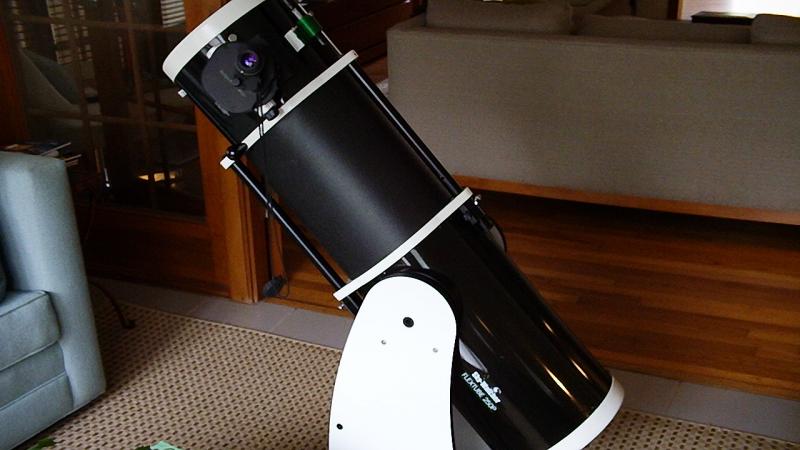 What started as a telescope that was supposed to be light has now wound up with a telescope that has gained five pounds of added weight (and this is using just a laser finder!)
The real problems with this scope that I have struggled to overcome have been around movement. The azimuth motion on this scope was poor out of the box and while PTFE pads improved this, overall, it was just a modest improvement, and azimuth motion remains stiff and in particular, when working near zenith, the scope becomes difficult to move.
Likewise, altitude motion is very balance dependent. Even slight imbalance requires that the friction clutch be utilized, and this clutch has kind of a fiber material, which does not have good friction behavior, making high power tracking of planets difficult.
I was hard headed and thought I could overcome some of these issues, and I threw a lot of money into the scope (new focuser for light path intrusion, encoder kit, though some of this might transfer forward, in particular the Nexus II but probably the azimuth encoder, though I may still have to buy a new kit), but in the end, every time I use it, I curse the problems inherent to the design.
I was initially leaning towards the Apertura or SkyLine dobs because of the closed tubes and the superior azimuth and altitude setup, but again, I was seduced by the easy of converting the Flextube to my needs (and indeed, it was easy to set it up for the focal reducer). With the Apertura, I would have needed to raise the mirror to reach focus with the reducer (and this would have not been so difficult) and perhaps oversize the secondary mirror a bit. I know raising the mirror would have induced balance problems but the Apertura has an altitude bearing that allows for CG modification and even if I ran out of range, it would have been very simple to drill new mounting holes higher on the tube. The Flextube does not allow this kind of bearing movement because the molded bearing plate is placed as high on the tube as it can be, so moving the CG further to the front is out of the question.
So, after a couple of months of trying to be happy with it, I have come to believe that the instrument is simply never going to be what I had hoped it would be.
I had thought about going with a custom dob, but these tend to be open truss scopes, and now that I have this new neighbor that likes security lights, I think closed is a better option.
I wanted to love the Flextube, and indeed, it does allow for binoviewer and focal reducer use, but I struggle to even like it a lot.
This is not a telescope I can recommend to anyone, even if they have a special requirement like using a binoviewer. The balance and poor bearing design conspire together to make this an unsatisfying telescope to use.
Now I have to decide whether just to live with it and curse it when I am doing high power work, or start over. I dread the thought of starting over, but I do find that the current setup aggravates me more than I care to admit.
So, something of a rant, and forgive me for that, but I am just tired of trying to make this scope something it can't be.