Just want to share this little diy project I've been doing recently. It's a portable solution for highly accurate GOTO (plate solve) for visual users. It works in a similar way to Celestron Starsense, but costs a lot less and supports any mounts that can be used with INDI. I'm sure someone must have done it before, but I'd like to share my experience.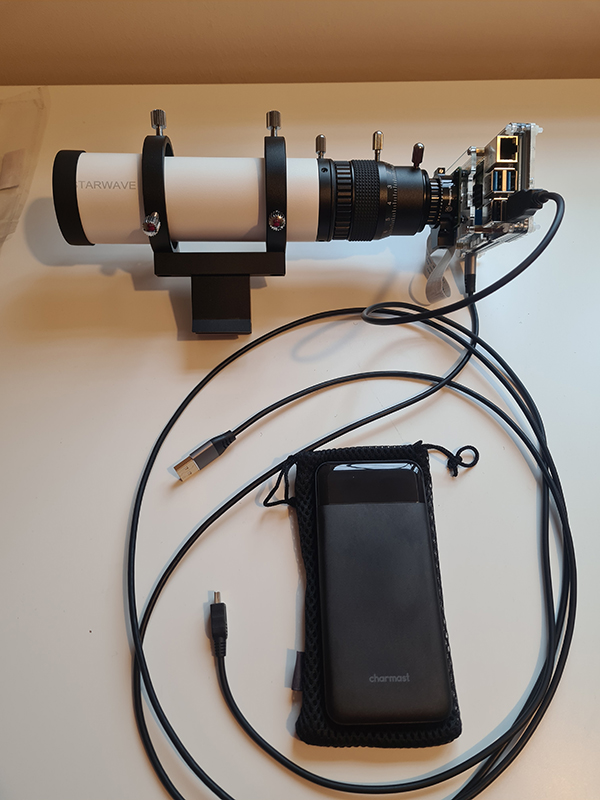 The parts that I've used are:
a spare Altair Starwave 50mm guidescope (also works with Skywatcher/Orion/Celestron 9x50 finderscope and a C mount adapter)
RPi 4B 4GB (In fact the 2GB model is sufficient. It's just that I only had a 4GB one laying around)
RPi HQ Camera with a 1.25 to C adapter
Pimoroni Pi4 case + PiHut camera plate
5V/3A USB powerbank
16GB MicroSD card
The above cost about £200 altogether and if I were to the SW 9x50 finder and a RPi 4B 2GB instead, I could shave off another £40 (or £80 if you've already got a spare 9x50 straight-thru finder).
The software components here are INDI, KStars/Ekos and ASTAP/Astrometry.net. These should be quite familiar to anyone who does imaging. I used the Astroberry image to install them onto my RPi. But they can also be installed separately through ubuntu or Raspberry Pi OS (aka Raspbian).
Here are the steps I've taken to make it work:
Flash the MicroSD with the Astroberry image
Connect to the access point "astroberry" on my laptop (It's a lot more convenient to use a laptop for the initial configuration. After that a tablet or phone would be fine)
Access the desktop via the browser NoVNC (a VNC viewer can also be used as an alternative)
Make the RPi connect to my home wifi temporarily in order to get all the updates via apt
Enable "Direct Capture" in the RealVNC server on the RPi
Align the finderscope to my main scope by using the preview of the RPi HQ camera. The preview can be accessed with either the raspistill executable (no reticle) or my own python script (red reticle overlay on the preview). efinder_preview.zip 773bytes

13 downloads

Create an INDI profile of the mount and the RPi HQ camera (as Guider not the main CCD). Then connect
Enter the correct focal length and aperture of the telescope and guidescope (206.6mm for my Starwave 50mm. 180mm if using 9x50 finderscopes)
Find a target to view through KStars
Go to the Alignment tab in Ekos. Open options and select local ASTAP as the solver (or astrometry.net if the required index files have been downloaded)
Set action to "slew to target", exposure to 5 sec, bin to 1x1, scope to Guidescope and FOV to 104' x 78.6' (Can be calculated with many fov calculators available online e.g. astronomy.tools)
Start "Capture & Solve"
The plate solve will make sure the target I've chosen is going to be right in the centre of my eyepiece. So no 2/3 star alignment is required. Plate solving with ASTAP on a RPi 4B is very quick, just a couple of seconds. It's also doable on a RPi 3B/3B+, but the UI in VNC is a little sluggish. RPi 3A+ is a no go due to insufficient RAM (512MB only) unless KStars/Ekos is offloaded to a laptop, but then it's no longer as portable.
If you'd like to give this a try yourself, a few things to remember:
5V/3A power source is recommended even though I've also tested with a 2.5A power supply and it worked. If your field battery is big enough to support both the mount and the RPi, a powerbank will not be required.
Both INDI and alignment preview maintain an exclusive access to the camera. So make sure these two programs don't run at the same time.
Polar Alignment in Ekos also works. But unless you have a big screen tablet, it will be very difficult to see the correction vector (certainly not possible on my 7" tablet). In my case, my iEXOS-100 was only roughly aligned to the NCP
Plate solving only works with either ASTAP or astrometry.net. The new internal solver introduced in a recent version of the KStars/Ekos always fails.
Bin must be set to 1x1 or else Ekos will replace your correct FOV with a wrong calculated value which makes plate solving fail.
Mount model works only intermittently. Since you're already using plate solving to center the target, don't bother with it
The plate solving can fail occasionally. When that happens, just do a "clear all" in the solution table and re-issue another "capture & solve".
Sometimes the target is already in the centre after the 1st solve, but Ekos will attempt more corrections. When it happens, just click/tap on the "Stop" button.
If anyone has already tried this before, I'd like to hear your experience and if you've got any suggestions to improve it further.
Edited by knight_parn, 21 December 2020 - 11:26 AM.