Hello and Happy Holidays to all,
This post is for information about the ToupTek IMX571 thermoelectric cooled astro camera sold by RisingCam (Manufactured by ToupTek) direct from China for ~$1282.50.
Worst case scenario is that I am out ~$1300.00 and the community gains valuable information that will help others researching cameras before making a purchase decision. I am completely ok with that outcome.
Altair has performance charts for their variant of the ToupTek IMX571 based camera, the Altair Hypercam 26c, and those charts are identical to the specs and performance claims of the RisingCam branded version. I am open to running tests for the community, just let me know what you are looking for and I will attempt to perform the tests.
So far I have only done indoor tests due to cloudy skies, not the new gear curse, just western Washington eternal rain and overcast skies.
The camera has two gain modes, Low Conversion Gain (LCG) and High Conversion Gain (HCG), as well as what the manufacture calls "a special ultra low noise mode."
I am using the ASCOM driver for the camera and it has so far worked perfectly without issues in SharpCap and APT. In the driver settings there are options to set it to LCG mode, HCG mode, a checkbox for the "ultra low noise" mode that can be enabled for both LCG and HCG modes, setting the gain, offset/black point, and the anti-dew heater level. The gain, offset, cooler control, etc, can be controlled directly within the controlling software, but the LCG and HCG mode has to be selected in the driver settings. After some research I understand that the gain and LCG/HCG modes are controlled differently than the ASI2600/QHY268. As I understand it the ASI/QHY have a point in the gain setting at which the hardware switches from LCG to HCG, the lower noise and lower FWC mode. In the ToupTek camera the LCG/HCG mode must be explicitly selected, then each mode has a gain scale, which you will see in the below sensor analysis data. My finding so far is that the best balance between full well capacity and read noise is at the lowest gain setting for each mode LCG/HCG.
I ran a 6 hour test on the TE cooler indoors at room temperature, with the target temp of 0 degrees Celsius, -25 degrees Celsius below ambient. I ran a constant loop of 5 minute exposures with no delay between images and the cooler maintained a sensor temperature stability of +- 1.8 degrees Celsius the entire time, with a cooler cooling capacity usage that did not exceed 72% with an average of 57%.
I looked at many of the dark frames taken during that cooler testing period and at +15 exposure in GIMP I did not see any amp glow and the whole frame appeared uniform. Please let me know if anyone wants specific dark frame samples and will attempt to collect them.
The only other testing that I did was SharpCaps Sensor analysis, images below.
SharpCap sensor analysis: Dark room with white translucent lens cap on camera and a diffuse white LED light setup to a constant and specific measured distance/placement for consistency. The LED was turned off and the lens cap replaced with a dark rubber form fitting cap for the dark analysis.
First run: Low Conversion Gain mode, sensor temp 0 degrees Celsius (-25deg below ambient), "ultra low noise" mode
disabled
.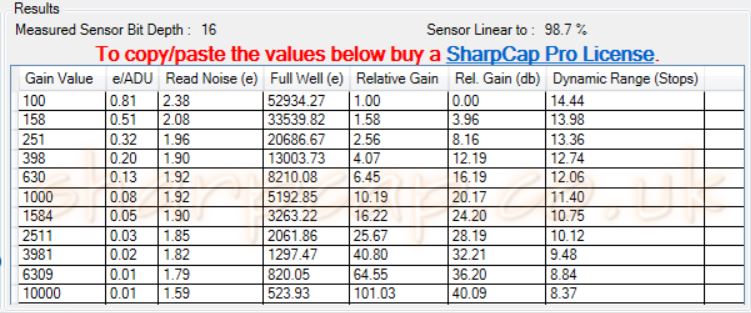 Second run: Low Conversion Gain mode, sensor temp 0 degrees Celsius (-25deg below ambient), "ultra low noise" mode
enabled
.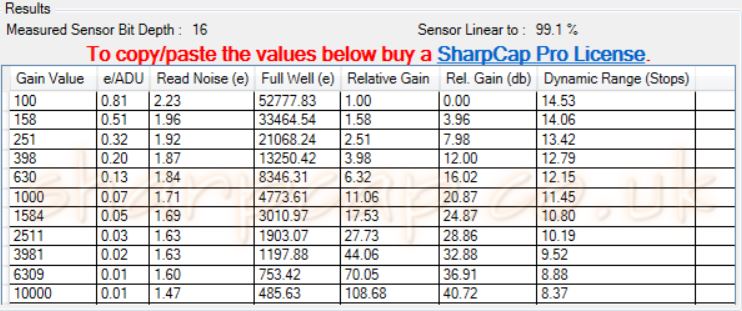 Third run: High Conversion Gain mode, sensor temp 0 degrees Celsius (-25deg below ambient), "ultra low noise" mode
disabled
.

The above results are very close to the manufacture claimed performance specs and I am looking forward to getting some DSO images as soon as the skies clear up a bit. I have no idea what the "special ultra low noise mode" checkbox is or how it works but since I saw only very minimal difference in LCG mode with it enabled and disabled I will be leaving it unchecked/disabled in the driver settings. Also based on the the analysis results I will be using the lowest gain setting for either LCG or HCG mode to make use of the best combination of full well capacity and read noise each mode offers.
That is all for now.
Clear skies!
Edited by Cbaxter, 25 December 2020 - 02:35 PM.