Hi folks,
I'm refurbishing what seems to be a 1950s-vintage Cave Astrola 8" reflector as a fixer-upper/COVID-boredom project. I'm at the point where I'd like to pull out the RA shaft to remove and clean up the brass setting circle (already did the DEC shaft and circle.) In this older model of Astrola, there are no roller bearings; the shaft just slides into a tube and there is a plastic disk that serves as a bearing surface.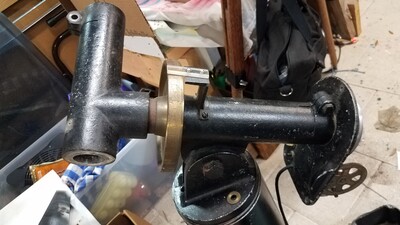 I've removed the clutch gear from clock drive, and now I need to remove the remaining piece of the clutch from the RA shaft so I can pull the shaft out, and then slide the setting circle off for cleaning. But the clutch disk does not want to come off. Before I start pulling on anything too hard, I'm wondering if the shaft is splined on the bottom (in which case the disk will need to pull straight off) or if it is just stuck, in which case I can work it loose eventually with wd40 and turning it. Anyone know how these things go together?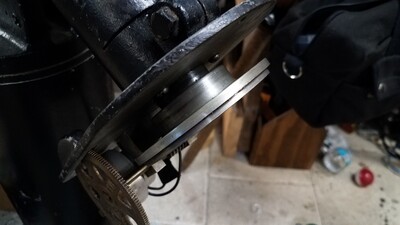 The Dec circle was very stiff and took several days of WD40 treatment and finally twisting with a strap wrench to loosen the old lacquer enough for removal. I could do something on this as well, if that would work. But I don't want to start pushing and pulling without a better idea how it's put together.
I know there are lots of Cave restorers on this list, so I am hoping someone has a suggestion!
Many thanks,
DeWayne