Oh ya want green eh?

I made another run at Elf's M42. I still found the colors interesting. Very much an appearance of teal/gray/green in the core and lighter nebula, though checking MaxRGB I only left true green near the Trap. I think Ivo has mentioned that is entirely appropriate for M42, possibly somewhere earlier in this very thread? In any event, I did play with the channel balances to see if I could make it "grayer" as my own data is there lately, but could not. That has me wondering how Elf sort of bleached his out. The bright white he has does look kind of nice, and almost backlights the darker structure.

But I went for a richer look here, obviously. As well as a wider crop. I really didn't want to crop at all, but then felt I had to on the left, and that made me crop tiny bits around the other edges too, in order to maintain somewhat of a rectangle. But I didn't like doing so, as there are just so many cool stars here. Anyway, I also tried to reveal a decent amount of the surrounding dustiness. Getting away from M42 main, it becomes a bit choppy and broken, and I think more integration would help fill that in. Really quite a nice display of dust in just two hours from that latitude. I didn't pick up nearly so much dust myself. Or, perhaps I did, but it was lost in my light leaks.

Thanks for posting, Elf!
You see that green line in M43?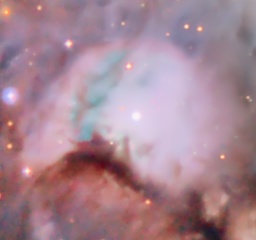 In almost all images on the web the thing is just a red circle. I have never seen that green thing before. Has anyone seen it before other than in my data? I was wondering if it is a reflection or some other artifact.
In Hubble images it is just dark dust.
https://www.messier-...mairans-nebula/
I think my processing is way off. It should be brown, not green. I'm still hoping to collect more data, then I will redo the processing.
Edited by the Elf, 19 January 2022 - 03:56 AM.