Dear All
I have learnt an enormous amount from the Amateur Telescope community. Seeing precision optics being made by hand in people's basements, and then used to look out into the cosmos is deeply inspiring.
From this inspiration, I am working on an artwork which incorporates 2 large handmade mirrors.
I must admit that the result will be an indoor art installation inspired by astronomy and Lorentz transformations, not an actual telescope.
I sincerely hope that it is not out of place to post my project here.
Do let me know if this type of posting is not welcome.
Continuing...
I am 1 half of an artist collective based in South Korea called Kimchi and Chips.
I have some experience with optics (I studied Physics at university in Manchester) and with computer vision (some examples at my GitHub https://github.com/elliotwoods )
Here you can see one of our previous works Light Barrier which incorporates a 16m wide plenoptic mirror array.
Another example is our work Halo which incorporates an array of 99 heliostats: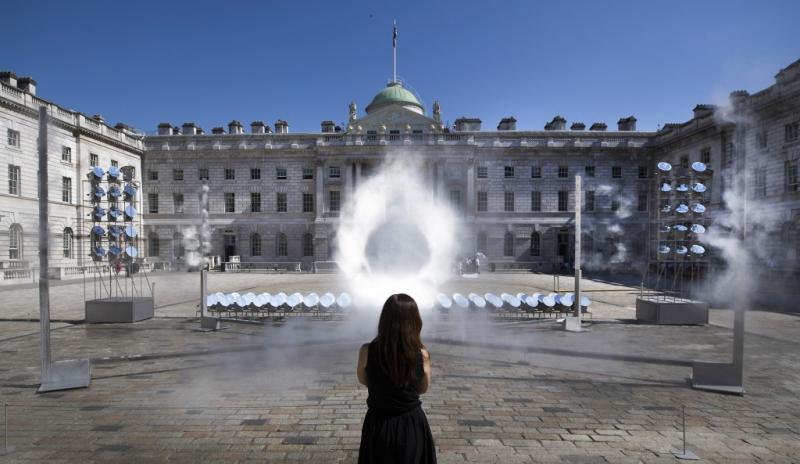 If you are interested, you can see other works and videos at https://kimchiandchips.com/
For our next work, we intend to engineer 2 mirror flats, each 1.8m diameter.
If you think this is insane, then you'd be in good company.
Our P-V tolerance is generous. Up to 10 lambda is acceptable (although I would prefer to reach <1 lambda), so it might not be an absolutely insane endeavour. However, float glass is still not flat enough (Which has deviations as high as 10,000 lambda P-V across an 1800mm surface according to SCHOTT Flat Glass technical data).
My current plan is to build a fixed post turntable (Gordon Waite style), and use it to grind 3 surfaces:
A - Glass (1.8m)
B - Glass (1.8m)
C - Tool with ceramic tiles / pitch lap (sub-diameter, so possibly 1.0m)
Following the advice of Francis O'Reilly, I would consider to grind for each grit size:
B on top of A
A on top of B
C on top of B
B on top of C
A on top of C
C on top of A
[move onto next grit size]
However, it might not be practical to grind a larger surface over a smaller one on a fixed-post turntable. Furthermore, the concave/convex should 'come out in the wash' if I keep grinding the 3 surfaces against each other (negating the requirement to flip the pairs each time to keep the curvature neutral). In which case it might make more sense to do:
B on top of A
C on top of A
A on top of B
C on top of B
[repeat multiple times per grit size]
I understand that the process is quite unwieldy with such a large mirror, but we have the following to our advantage:
1. We have an engineering company we work with who can help build machines and mountings
2. We have use of a warehouse space with a gantry crane
3. Our tolerances are about 1 OOM weaker than normal parabolic mirrors (1/6 lambda) or real optical flats (1/20 lambda)
4. Since we don't have any curvature, some of the issues which arise when making a spheroid mirror are alleviated (e.g. accurately centering the glass on the turntable)
The mirrors will be displayed in a climate controlled environment, so large temperature changes are not so much an issue, so we are planning on using architectural float glass (not tempered). Also since it is a limited time exhibition, we currently plan to silver using the Angel Gilding technique.
I'm currently planning out how the procedure will go with the large mirrors, and will create a small version of the procedure which I will test on 6" (150mm) blanks which I have ordered from Firsthand discovery. i.e. I'll mock up a small fixed-post turntable and everything else that's required and try .
A few issues we are aware of and are working on:
1. The backing structure for the mirror (both for handling when grinding and mounting for final use)
2. Glass thickness (we're aiming for about 40mm at the moment. This is less than the 300mm for a 1/6 ratio, but in our FEM analysis this seems more than sufficient for the flatness specified above)
3. Lowering the glass on top of another piece of glass safely (i'm imagining the backing structure would have some 'release' threads which allow you to drop the final millimetres slowly and manually)
If this is something of interest to discuss here, then I will continue to post in this thread concerning design decisions, actual designs and production progress. We always try to open source our process as much as possible in case it is useful to others (e.g. the GitHub link above).
I would very much appreciate to hear your expertise, opinions and thoughts.
But again, is this project ok to discuss in this forum?
Thank you
Elliot
Edited by elliotwoods, 15 January 2021 - 05:41 AM.