I like 50mm RACI finder scopes, particularly ones with a real focuser. They are great finders that allow the use of quality eyepieces and can offer a very wide field of view. My 50mm SV-50 is my work horse. Optically it's decent and it provides nice low power views of many objects and can be used with filters. It's F/4 so, it's F/4.
I had been eyeing the Astro-Tech 50mm RACI Finder for a while. It's the bare bones finder, no eyepiece, no rings.. But it's $45 and that won't buy a GSO finder. When the Telrad on my 13.1 inch died and I needed some more items to make the $100 free shipping limit at Astronomics, I decided to it was time to add one of these Astro-Tech finders to my order. Of course, one was not enough so I ordered two of them..
https://www.astronom...5.html?___SID=U
When they arrived, I was immediately impressed, they are beautiful little scopes, everything except the thread on lens cover is metal (and glass), they have the Astro-Tech white on gray color scope. The focuser is a helical focuser and it is much smoother and tighter than my SV.
My plan is to make the rings myself but as luck would have it, it does fit the SV rings so I was able to give it a try as a finder. It's a good finder but it has a longer focal length than the StellarVue so the field of view is narrower. My measurements estimate the focal length to be about 250mm, F/5, a nice place to be for an RFT.. I just needed a mount.
As luck would have it, it turns out that with just a little shimming, it fits nicely in the 60mm F/15 Carton mount. So first light was not as a finder but as an RFT. (Actually first light was handheld but that's another story.)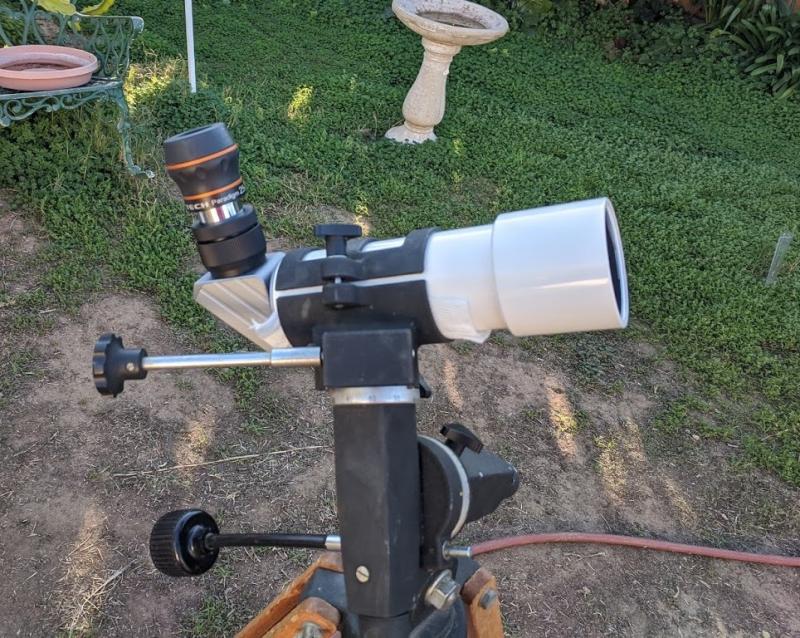 I have not had a chance to try it under dark skies but from my backyard.. it's pretty awesome as an RFT. The 22mm Panoptic is a perfect fit, a 5.7 degree Field at 11.3x with a 4.4 mm exit pupil. The focuser is smooth and accurate and allows me to focus sharply about 1/3rd the way from the center which minimizes the field curvature of the outer field without overly compromising the center of the field. The Pleiades, Orion, just wandering around, the views are very pleasing.. I can't wait to use it under dark skies.. with filters..
The thing about little scopes like this, you give up a little exit pupil a little magnification but they're providing views that are big and comparable to bigger scopes. An ST-80 with the 31mm Nagler provides a 6.0 degree field at 12.9x with a 6.2 mm exit pupil. This little cutie is giving a slightly narrower view at slightly less magnification with a smaller exit pupil. The views aren't that different.. And pop in the 16mm Type 5 Nagler.. 5.1 degrees at 15.6x with a 3.3 mm exit pupil.. These are pretty amazing views.
Of course Jon being Jon, I had to give it a try on some double stars. Finders generally have optics that are acceptable for low power viewing but increasing the magnification shows they have problems. The Orion 70mm multi-purpose finder is a good example, with a quality 16mm, the scope has some real issues.
So the other night, I was using it as a finder, I had Castor (5.0") in the main scope, I thought I'd give a try in the Astro-Tech finder. It was a clean split and I was able to verify that it wasn't an optical defect I was seeing, (I have been fooled before) because the view in the main scope and the finder were rotated 180 degrees from one another.
Last night, I was able to give Algieba (4.8") a try and was able to make the split. Encouraged, I thought I would give Porrima a try. Porrima is a 3.1" double, pretty ambitious for an 50mm finder scope.. It was not a clean, easy split the way Castor was but it was there to be seen at 70x, better at 140x.. How is that.. 140x with a 50mm finder.. that's only 70X/in..
There are a couple of things to note: I measured the effective aperture at 48mm using my laser projection technique. I suspect this is related to the back focus. There is a lot of back focus, notice that in the photo, the eyepiece is not fully inserted. Back focus is a good thing with a finder because illuminated reticule eyepieces must have the illuminator placed at the focal plane where the field stop is located. It must be placed in the barrel which means the eyepiece needs a lot of inward focuser travel/back focus. I have had other finders that I had to return because there wasn't enough inward focuser travel because of the supplied eyepiece.
One other thing, the focuser has a collet rather than a set screw to secure the eyepiece. I'd prefer a setscrew but the collet does the job.
Jon