I've got a new ASIAIR Pro paired with the ZWO ASI120MM Mini camera w/30 mm guide scope) but the app won't find the camera - dropdown choices are none/empty (see attached image). I did learn that the non-mini ASI120MM/MC is officially not supported per the ZWO website, but that's not my problem. I purchased this setup as a kit, and many others do have it working just fine. I'm stumped. I've verified the camera/cable works by hooking it up to PHD2 - no problem there. I've verified power output from the ASIAIR Pro usb2 ports (and tried all 4 of the USB2 and USB3 ports). No luck. I just can't get the app to recognize the camera in the dropdowns. I've also tried running this from my android phone as well as an iPad - same results. Lastly, trying with the ASIAIR Pro via wifi or connected to the home network doesn't make a difference. Nor did restarting any/all components of the setup.
So, does anyone have some advice about how to get the ASIAIR Pro app to find the ASI120MM Mini camera? Thanks in advance.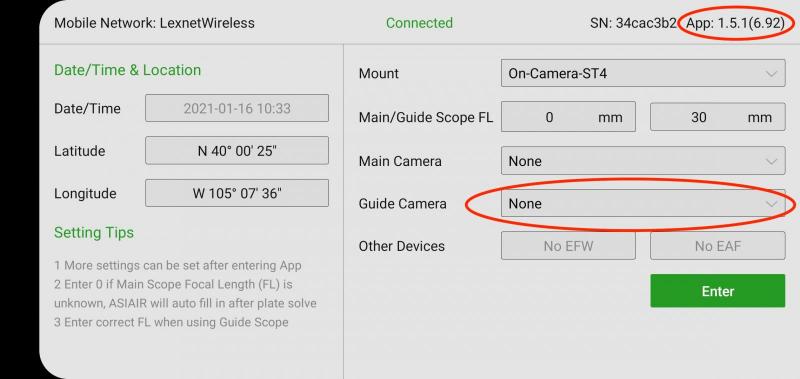 Edited by kjobcolorado, 16 January 2021 - 01:17 PM.