Three Observations, December 21 and 22, 2020
This was a very special night at the summit when a number of the Haleakala Amateur Astronomers got together to observe the Great Conjunction of Jupiter and Saturn. We had to arrive at the site early to be all set up for sunset when the conjunction would occur just before the planets set in the west.
The conditions were optimum with winds at 11 mph, 5.3 m/s; humidity at 14% and the temperature at 48F, 9.2°C. The Jetstream was 37 m/s making seeing somewhat difficult at higher power. I set up my Burgess 127mm refractor on an iOptron QEZ 25 on a tripod. I could waste no time and the minute I got the two planets in view I started my sketch. Ganymede was very close to Jupiter having egressed from transit. I looked for its shadow on the face of the planet but when I increased power the seeing caused it to become too fuzzy. I used my SkySafari Pro on my iPad to confirm the moons of both planets and the stars in the field of view. I utilized a 2" Explore Scientific 18mm EP at 55X, 1.5° FOV for the Low Power Ocular view and a Tele Vue Delos 6mm EP at 166X, 0.04° FOV for the High Power view. I scanned the pencil sketch to GIMP and reworked it to illuminate the colors of the planets and label the objects.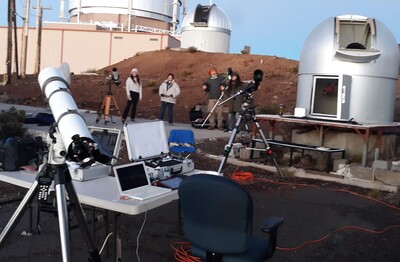 The night was young and I had a system in Delphinus, BU 987, (S 572), WDS 20302+1925, that I needed to sketch for the AstroLeague Multiple Star Observing Program before it set in the west. Otherwise I'd have to wait over six months to catch it rising early in the morning. Stelle Doppie has the Lit here. This is a fairly close system of stars, just under 1300 LY, with four companions; two of which, D and E, are too dim for smaller optics. I continued to observe with a Burgess 127mm on an iOptron QEZ 25 mount. For the Low Power view I used a 2" Explore Scientific 9mm at 111X at 0.9° FOV plotting four field stars. For the High Power view I used a Tele Vue Delos 6mm EP at 166X, 0.4° FOV.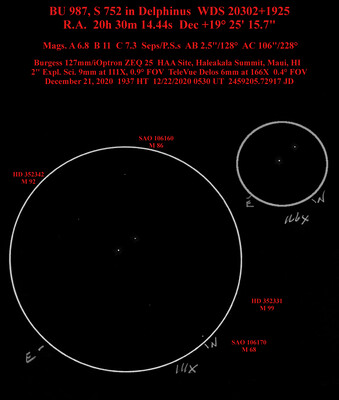 To finish off the observing session I turned to Cancer and made a sketch of ENG 37, SLE 335, 39 CNC WDS 08401+2000. This system is also part of the AtroLeague Multiple Star Observing Program. It is located on the northern edge of the Beehive Cluster, M44. Stelle Doppie has the Lit. here. Because of this dense cluster, I took the time to identify a bunch of field stars around this system. This multiple is even closer at around 600 LY. With a 2" Explore Scientific 9mmEP at 111X, 0.9° FOV, I plotted 15 stars; one outside the FOV to the WNW. With a Tele Vue Delos 6mm EP at 166X, 0.4° FOV, Components A, B, C, D, R and S with five field stars including 38 Cnc.
So, there you have my version, among many, of the Great Conjunction 2020 with two extra multiple systems. Any comments are welcome.