My DIY spectroscope by First Last, on Flickr
This is too heavy (~1 kg) to be used with a telescope, albeit with a choice of smaller collimator/camera lenses this might work. I designed and built this primarily to test astro filters, and to try to get a spectrum of my light pollution. At the core, there is a 1000 l/mm diffraction grating slide (5$ on ebay). I use an old SLR 50mm f/2.0 lens by Ricoh as the collimator lens, a C-mount zoom f1.2 Computar lens as the camera lens, and a cheap B&W C-mount astrocamera ToupTek.
The 3D printer design is fully parametric (using free Autodesk Fusion 360), so can be adjusted for many other lenses, cameras, slits, and gratings. The design can be found here:
https://www.thingive...m/thing:4729351
The software used:
SharpCap - to record the spectra, and dark frames. I use ROI feature to limit myself to a small vertical fraction of the spectrum. The only SharpCap regime which allows me to average spectra frames on the fly is the "Dark frame creation" option. I use it for both spectra, and dark frame imaging. The "Live stacking" feature messes up with brightness for some reason (using fits, png etc), so my dark frame actually becomes brighter than the spectrum, so I couldn't use it.


ImageMagick: to subtract dark frame, and produce a table of the spectrum data from PNG files.


My own Octave (MatLab) scripts, which autodetect all spectral lines, do non-linear Gaussian fitting to each line (for more accurate center position determination), and calibrate spectrometer using a slightly non-linear (parabolic) scaling between pixel coordinates and the wavelength.


After careful calibration (using a CFL bulb as the target; see https://commons.wiki...ks_labelled.gif ), I achieved the std error of 1.5nm (pixels) for the 18 spectral lines (blue line is my spectrum, red lines are the actual wavelengths of the 18 lines):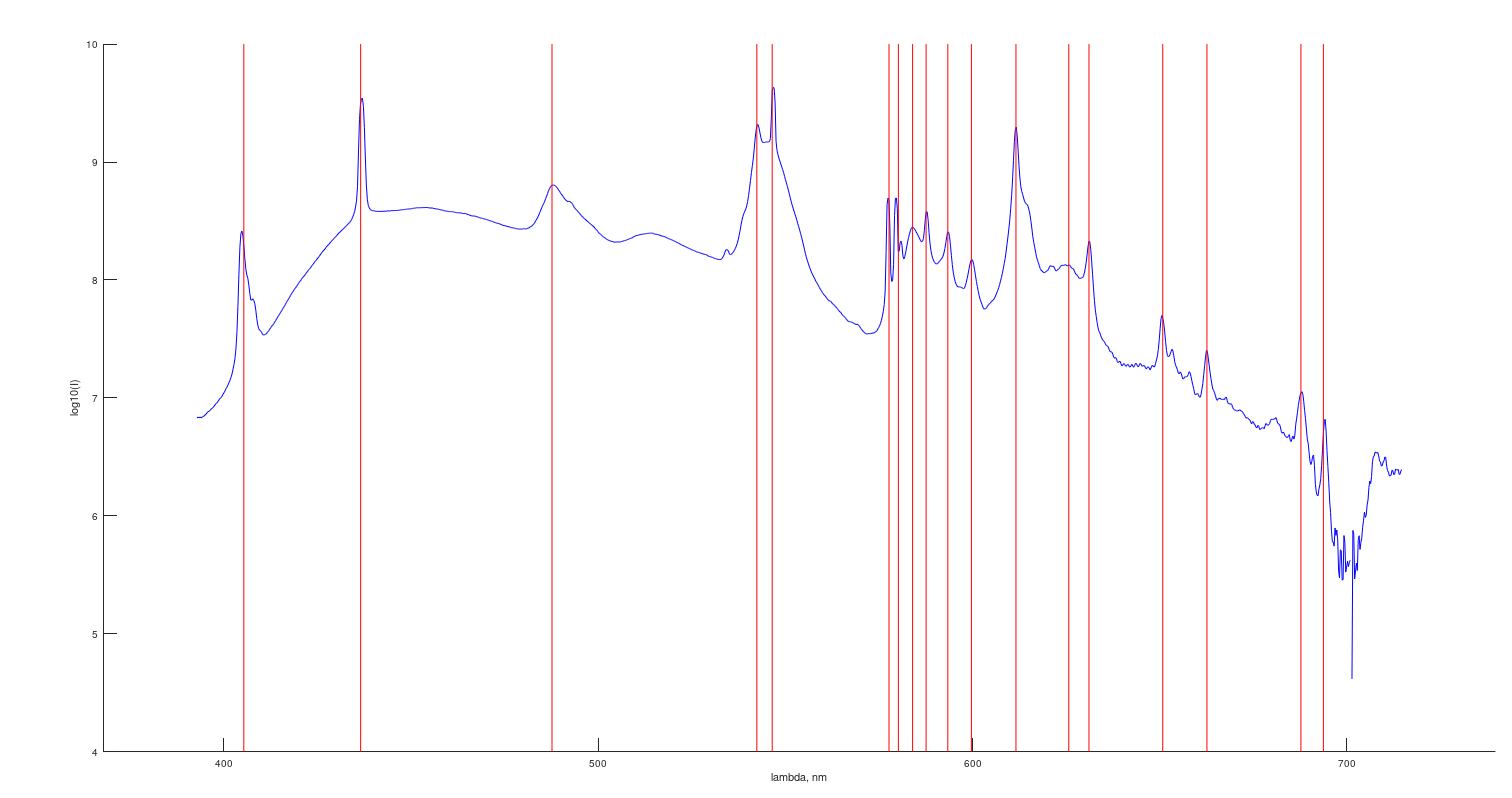 Edited by syam, 20 January 2021 - 10:52 AM.