Recently I have downsized my OTA from C-11 to C-8, with a goal of easier setup and teardown. The C-11 will go into semi-retirement for a while, with my old 1985-era Celestron Super C8 Plus taking over largest aperture duties. But with a nice AT115EDT APO and EAA rig riding piggyback, there will be options, depending on my focus for a particular night's observing.
Here is a recent shot of my workbench with the optical assembly in for servicing.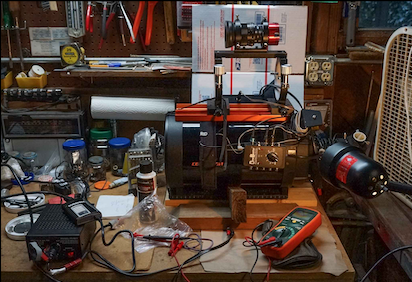 The Pyramid 5-amp power supply (lower left, used with my G-11 mount) is being tested for output voltage under load. For this I used a small inverter powering an AC LED light seen in lower right. The C-8 has refractor tube rings and EAA rig riding on top.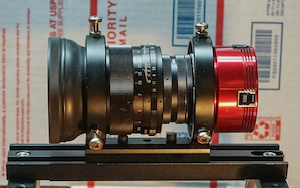 So here is the ZWO ASI290MC camera with 1972-era Mamiya-Sekor 55mm f/1.4 lens. Full frame that fast lens gives atrocious star images in corners. But at f/2.8 it has proved to be excellent corner to corner. With the camera's tiny sensor it should give nice images in its 5.8° x 3.3° FOV. This will cover the entire Veil Nebula as well as such expanses as from the Orion Nebula to Horsehead & Flame Nebulas. And f/2.8 will give bright images. Also the short 55 mm focal length places minimal demands on tracking.
I just renewed my SharpCap Pro license for another 14 months. So now I need a clear night. The next 10 days is predicated to be non-stop rain & snow in the PNW. So I'll need to exercise patience.
Russ
Edited by Rustler46, 24 January 2021 - 09:48 PM.