Recently I downsized from my C-11 to a C-8. The C-8 is much easier to mount upon my Losmandy G11/G-1 mount. This difference is 15 lbs. versus 35 lbs. to heft up into the dovetail clamp. So the C-11 is in temporary retirement. Now my old Celestron Super C8 Plus has been with me around 40 years, and has proved to be very good optically.
So while viewing some doubles and open clusters in Taurus (Sky and Telescope, January 2021) I ended the night with an observation of M1, the Crab Nebula. Here's what I recorded in my Excel Astronomical Observations spreadsheet.
January 18, 2021, Ocean Observatory, Coos Bay, Oregon - using S&T Jan. 2021 to explore Taurus, seeing is "lively", just before 1st quarter Moon
Celestron-8, 85X (f/10 with TV Panoptic 24 mm)
SN Remnant, Crab Nebula - shows best with averted vision, no discernable edge, it just fades away to background sky, definitely oval, one of the long edges of the oval is flatter compared to the other, @ 185X (TV Nagler 11 mm T6) the sky is definitely darker, sometimes I glimpse a star just outside the nebula, averted vision helps with that, with OIII filter @ 185X I can't see anything at all except for 1 star at FOV edge, so back at 85X with OIII filter I like the view much better, sky is darkened quite nicely, AV still needed, there are a number of stars that show up better with the filter, the nebula looks vaguely "stringy, loopy", this is prejudiced by my knowing what the nebula looks like photographically - that "ropiness", this would benefit from a lot more aperture, sometimes I see within the nebula some little bits sparkling, with filter the glow is a little bit less soft, it's less amorphous, it has this ropey texture to it, just knowing what this object really is enhances my appreciation for the view, in there is that neutron star whipping around at 30 times per second, and this is what is seen now from what Chinese astronomers witnessed in the year 1054
Here is my best photo of the Crab Nebula.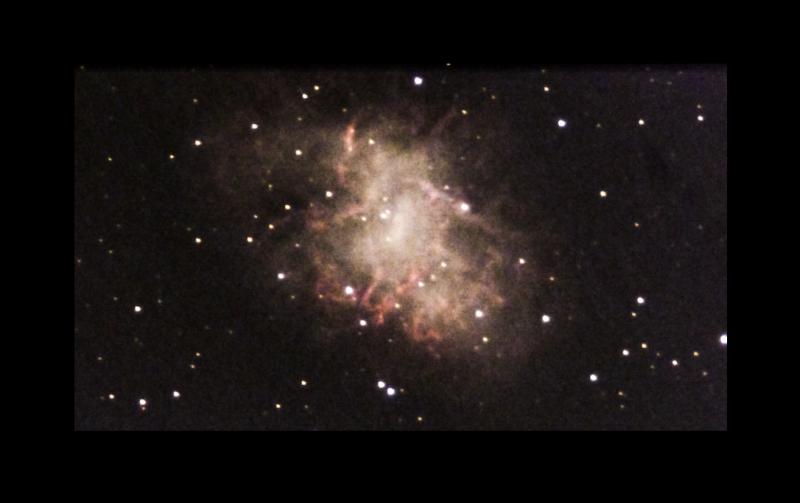 10-inch reflector f/5.5 w/ ZWO ASI290MC video camera, best 75 of 80 frames (45-seconds each), Autostakkert! 2; no UV/IR cut filter
Here's the rig used for the Crab Nebula Photo.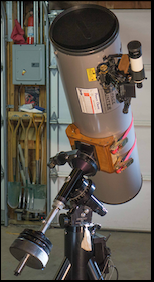 Russ
Edited by Rustler46, 27 January 2021 - 01:42 AM.