A fellow observer from Australia was kind enough to loan these Kellners to me for a look-see. Not sought-after premiums by any means, but good solid build economy eyepieces. I disassembled one to confirm it is a Kellner design and it is. On ebay I see these for sale from Australia for a price of about $53 USD for all three, and shipping around $18 USD to the U.S. So that's a total of $71 for 3 eyepieces, or about $24 each. Not bad for a well built eyepiece (all metal build except for the rubber eye guard.
Marketing specs are interesting in that they only mulitcoated the 25mm whereas the 20 and 10 are single coated. Being just a 3-element 2-group design not sure multicoating is really necessary although always nice when the eye lens is multicoated to help mitigate eyeball glint and reflections from street lights and such. Given a 99% efficient multicoating the overall theoretical transmission efficiency of the 25mm should be around 96%, while the single coated only 20mm and 10mm should be around 93%, so in either case very good. Also interesting in the marketing is they are touting these will work well in sub f/6 instruments! Not a claim that makes sense given their generous AFOV for a Kellner, but we will see when I place them in the 80mm f/6.25 I have.
In the hand they feel quite sturdy. Holding them up to the eye they show good field stop definition in the 25mm and 20mm, and just a little less than sharp in the 10mm. Rubber eye guard is a bit thin and naturally folds down nicely and is easily removable if you desire.
I did some measures of them on the bench and got the following:
K25 -- 51° AFOV; 20mm ER
K20 -- 49° AFOV; 15mm ER
K10 -- 48° AFOV; 7mm ER
Will be fun getting them under the stars once the snow storm passes here in Virginia, and seeing how they compare to a vintage Celestron 25mm Kellner as well as the current production 20mm Starbase Kellner.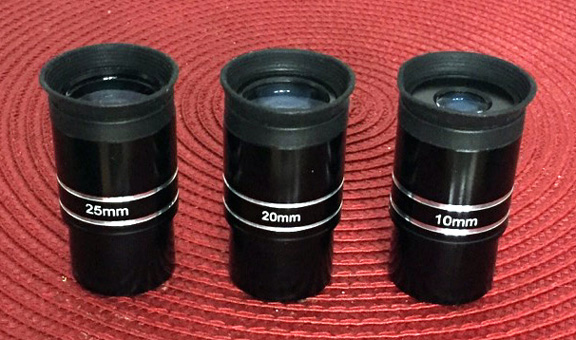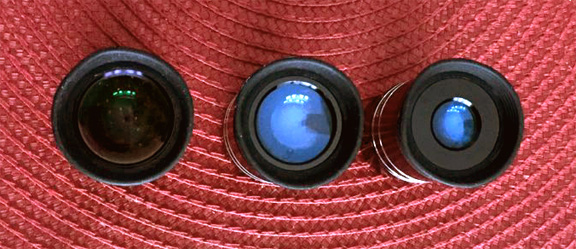 Edited by BillP, 01 February 2021 - 12:55 PM.