This area probably deserves all the attention it gets from astrophotographers. Bright nebulae, dark nebulae, hydrogen-alpha, colourful dust and stars—it has it all, including Alnitak and all the challenges that having such a bright star in such an environment gives us. This is my first serious attempt at imaging this part of the sky. I have been reading about various ways to deal with reflections or haloes and decided I would try at least one. I chose Charlie Bracken's method of creating a mask using PixelMath and a clone of the image, as he describes in his website tutorial:
https://digitalstars...-in-pixinsight/
With the mask applied, you adjust the brightness of the halo on your target image using HistogramTransformation, moving the lefthand slider up to taste. I did this process three times, making a new mask each time, and being careful not to clip "too much". It gave me a smoother result than trying to do things all at once, but I wasn't as "scientific" as I could have been. I suspect that if the size of the next mask created is decreased by the same amount as the convolution applied previously, it may yield a better result. I will give it a try, but for now I am fairly happy with the result.
Prior to reduction: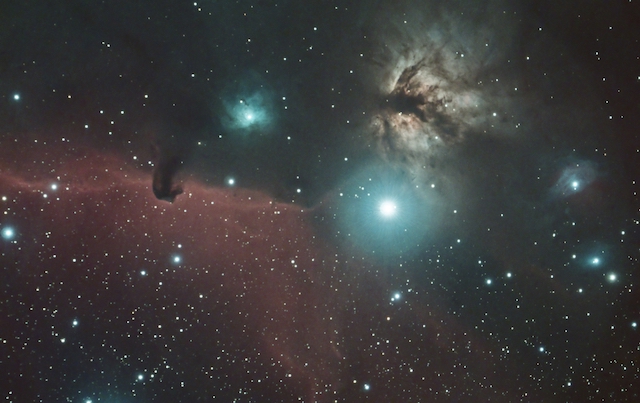 After three iterations: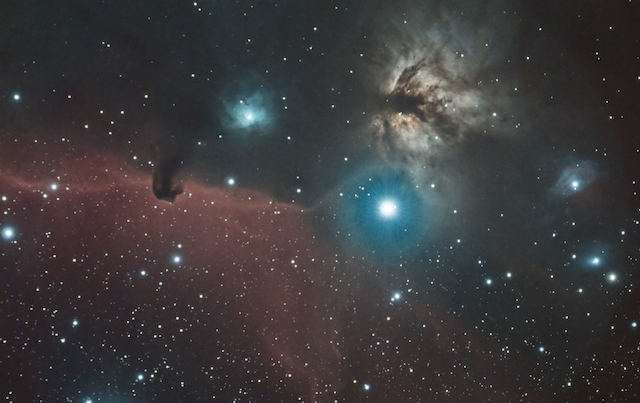 I am wondering where in the process is best to apply this. I did it once a "final" image was created (nonlinear, noise reduced, sharpened, colour saturation). I am also wondering if anyone has compared various methods of halo reduction?There are several to try and I will try to find the time to give other methods a try, but thought I would throw it out there to see if anyone cares to comment.
Sadly, whlle it doesn't show in this image, my oil-spaced objective has developed a serious problem and is on its way back to Astro-Physics for Roland and co. to diagnose and repair. i purchased it in 1996 when the waiting list was only about 6 months; twenty-five years of service is pretty good, but a bit concerning that this happened at all. The only possible cause I can come up with is prolonged exposure to moderately (by Canadian, or high elevation, standards) cold temperatures (-15 to -25C). There is a separate post on this problem.
Details on images: first is pre-halo reduction, second is post (hopefully obvious!)…. 49 x180 seconds QHY168c at -20C camera temp with no cooling power applied! AstroPhysics EDF 130 mm f/6 on CGEM, PHD2, NINA, PI processing (WBPP, EZDecon, EZNoiseReduction, HT/CT/MLTsharpening, LHE then halo experiments)