This project is to develop an inexpensive adapter that can connect a modern Nexstar+ (USB) hand-controller to CPWI, Skysafari, etc using Bluetooth.
Past efforts have used the Serial version of the hand-controller, or have physically modified the internals of the USB version to install an HC-05 bluetooth module. But this design will work with the USB version without hacking it in any way.
The basic hardware will be either an ESP32 dev module with built-in bluetooth, or a 3.3V Arduino Pro Mini in combination with an HC-05 bluetooth adapter, and one of these (photo) into which one plugs a standard USB "mini-B to Type-A" cable from the hand-controller.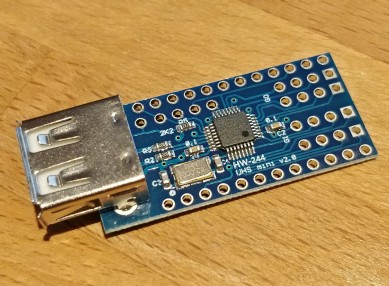 That's a 1-port USB Host adapter for the Arduino's SPI bus.
This little board attaches to the SPI pins of the Arduino, and uses the USBHOST Library, which includes support and sample code for the Prolific pl2303 chip that's inside the HC.
From there, a new Arduino "sketch" (program/firmware) will bridge that connection over Bluetooth to CPWI (or whatever). The idea is that Bluetooth may be more reliable than WiFi for some setups, and going through the hand-controller means that some smart-device software may(?) then also allow use of the HC in combination with the smart-device app.
Interfacing information for various Arduino style boards including ESP32 is here:
https://create.ardui...-esp8266-e0ca8a
Edited by mlord, 10 February 2021 - 11:15 AM.