Let me finally thank everyone for help, advice and ideas, and summarize my somewhat chaotic remarks on image quality. There have been many opinions on this subject, as well as comparisons with other instruments. I thought it would be good to systematize them by doing one joint test with several refractors with a 60mm aperture - some of them mentioned in this thread. Today there was a good opportunity - the weather was nice and relatively warm, and the Moon high above horizon.
For the test, I used 5 classic refractors with a diameter of 60 mm:
- Kenko TA-910 60/910 mm
- Vixen Sky Scope 60L 60/900 mm
- Towa / Viking 60/700 mm
- Towa / Marine spotting scope 60 mm
- B.O.B. Optik zoom spotting scope 60 mm (probably Kenko).
The Moon played the role of the test object.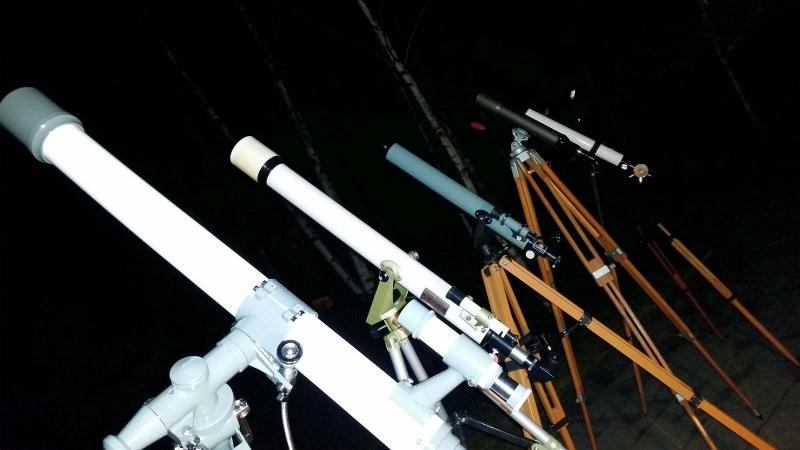 My first "classic" in this set was Towa / Viking 60/700. When I bought and restored it, I only had the opportunity to compare it with my Sky-Watcher 120ED - a modern instrument of a completely different class and design. No wonder my verdict on Towa at the time was: good enough - nothing more. Since then, however, I have had the opportunity to enjoy a number of other "classic" instruments and my comparative scale has changed. Mostly under the influence of RAO R-74. In terms of image quality in planetary/Moon visual observations, this refractor beats everything I had in my hands so far - also the Sky-Watcher 120ED, which cannot be compared to RAO in terms of contrast, color, "spatiality" of the image or even subjective feeling of viewing comfort. Thanks to classic refractors, I learned that image quality is not all about sharpness - and began to include these factors in my evaluations. How did today's comparison fare?
Well - if I were to point out a telescope that would have a chance to relate in some way to the images obtained by RAO R-74, it would be ... Towa! Yes - this modest, cheap telescope gives an image distinguished not only by fantastic sharpness and precision, but also by contrast and very good visibility of objects with small albedo differences, located on brightly lit parts of the lunar seas. I would say that at lower magnifications the image is comparable to the RAO R-74. The crystal-clear, sharp image can be enjoyed here without effort and eye gymnastics - simply by placing it against the eyepiece. The almost complete absence of chromatic aberration is impressive. Black shadows are black - as they should be. And it's F11,7, not F15...
Second in order was Vixen. The image here is sharp, precise and contrasting - but it seems that in each of these respects it is slightly inferior to the Viking/Towa, which is overlaid with a much darker image and clearer chromatic aberration.
The problem starts with third place. I would say it went ex aequo to the three remaining refractors. Kenko's problems aren't limited to sharpness - the image feels much less contrast and a bit hazy compared to Vixen, and especially compared to Viking Towa. In turn, the two "spotting scopes" refractors ... well - let's just say that they are not astronomical instruments. Both have a very significant chromatic aberration, picture seems hazy on contrasting objects although the antique Marine Towa shows very good quality of detail through the eyepiece with the highest magnification. In any case, the conclusion is that Kenko, in terms of image quality, is placed on a shelf with instruments for watching birds and spying on neighbours, while the Moon turns out to be too demanding for this scope - same as for the two 'spotting scopes'. To spot a precise detail with Kenko you have to wait a long time, exercising your eye and head in all directions, turning the focus knob and praying for a miracle. It happens - but rarely and at completely unpredictable moments - just as it happens with miracles ...
Meanwhile, comparing Kenko and Viking/Towa, I have the impression that in the latter case a miracle is at hand. Putting my eye to the Towa's eyepiece, I have the impression that I am miraculously moving to the vicinity of the Moon without the effort and anguish that accompanies using the Kenko instrument.
So... Towa! And to think that I bought this modest refractor as scrap for $ 18, saving it from disposal ...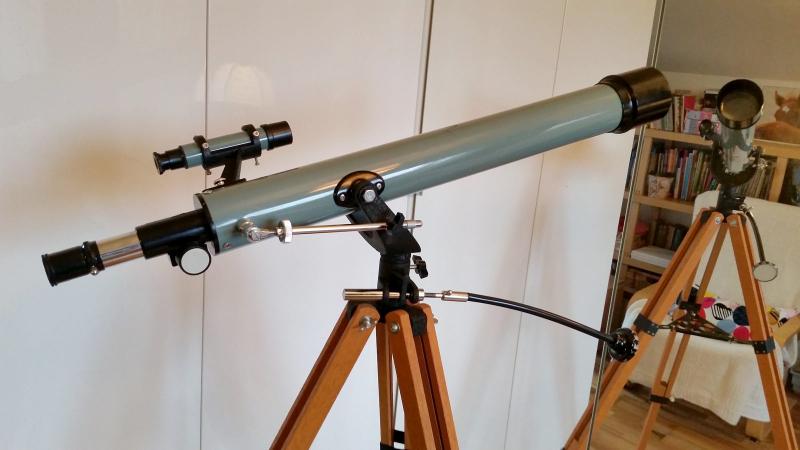 Edited by LukaszLu, 25 February 2021 - 07:30 AM.