The Neptune series is a 1/2-inch format planetary camera series for the top player. It is larger than 1/3-inch and has a higher resolution, and is more suitable for astronomy enthusiasts.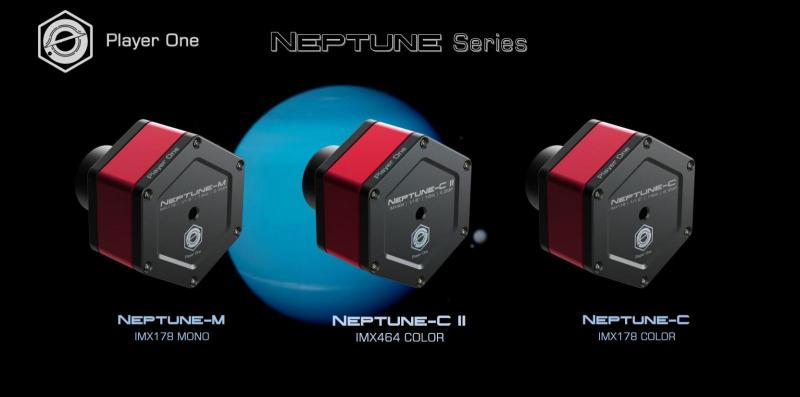 The main hit of the Neptune series is Neptune-C II, yes, you read it right. We directly released the second-generation Neptune model on the grounds that the plan could not keep up with the changes.
Neptune-C II camera uses Sony's latest IMX464 chip, which is better than IMX462.
Neptune-C II is also the world's first planetary camera with IMX464 chip.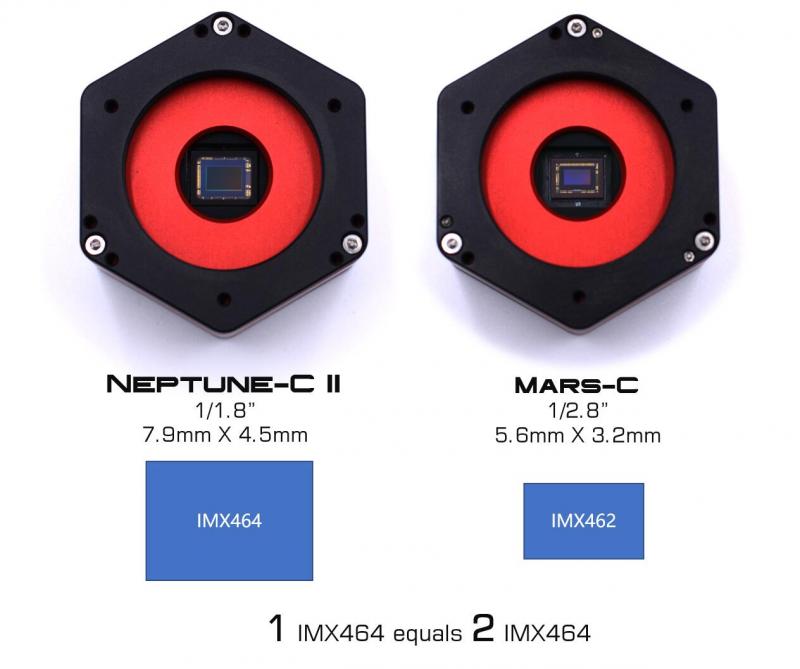 0.7e ultra-low read noise
Compared with the IMX178 of the same frame, the read noise of Neptune-C II can be as low as 0.7e, and the noise is reduced by about 47%, which is as strong as IMX462!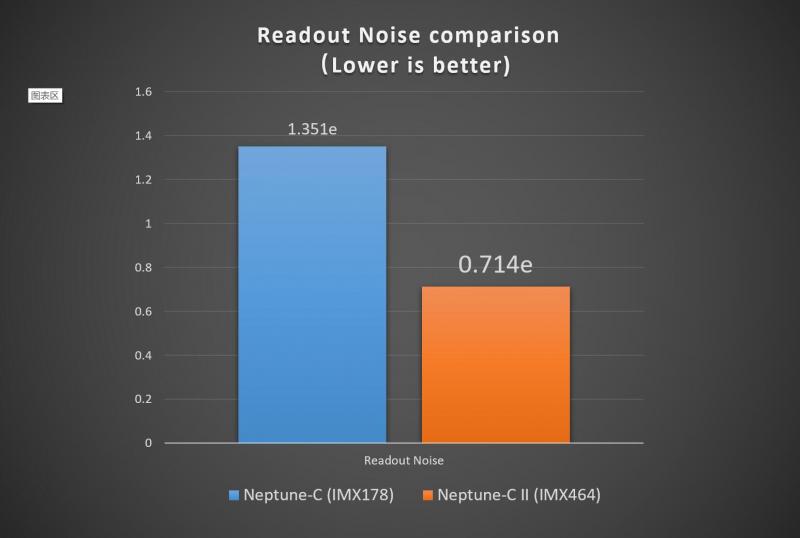 Sensitivity increase
Compared with another 1/1.8 inch chip IMX178, we find that the IMX464 pixel is larger than the IMX178 at 2.4um, reaching 2.9um.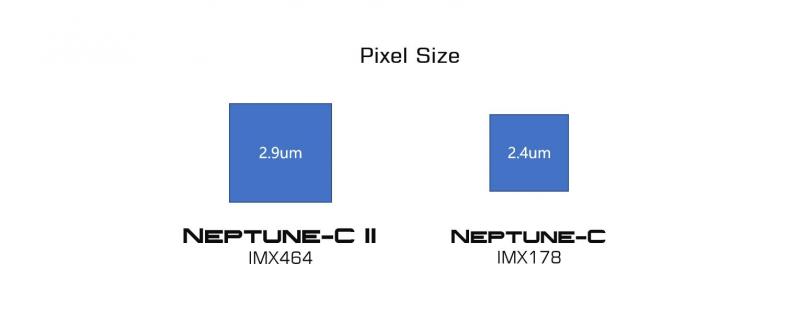 When used on the same telescope, although the quantum efficiency is not much different, the 2.9um pixel has 46% larger photosensitive area than the 2.4um pixel, which can greatly increase the single pixel to obtain more photons, which means Sensitivity has also been greatly improved.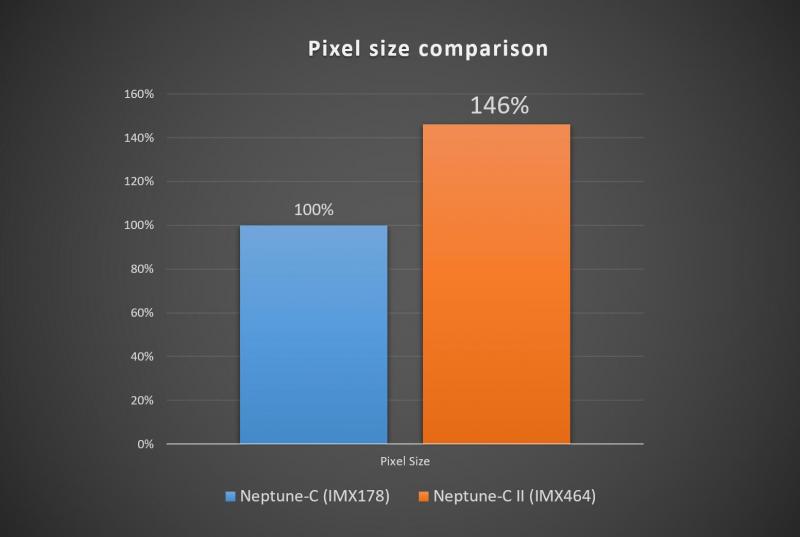 Near infrared super light sensitivity
Not only that, IMX464 also has ultra-sensitive infrared sensitivity characteristics, suitable for playing infrared photography, whether it is matched with IR685, IR850 or CH4 filters, it will give you a new visual experience.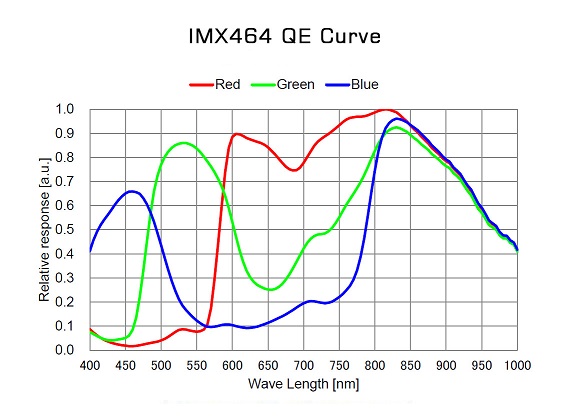 Ultra high frame rate
Neptune-C II can reach 93FPS at full resolution, which is 55% higher than the 60FPS of the IMX178 chip of the same size, making it more efficient to shoot planets.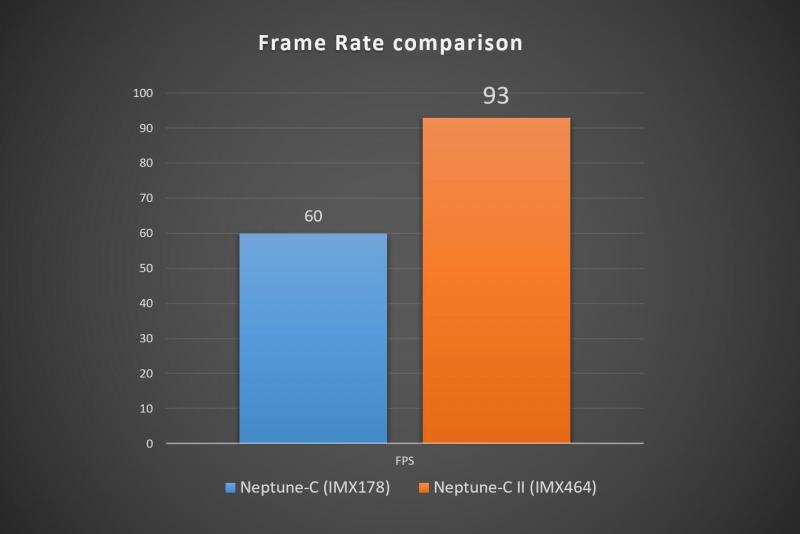 Beside the brightest star Neptune C II, we also launch another two models of Neptune series.
Neptune-M and Neptune-C, Based on IMX178 sensor, I believe you are familiar with it.
Maybe someone will ask, why make Neptune-M and C when you already have such a strong new camera Neptune-C II?
Reason 1, we need a monochrome camera.
IMX464 sensor is a color sensor, for many enthusiasts, without monochrome camera, a lot of shooting flexibility will be vanished, so Neptune-M is to make up for this.
Reason 2, we need true color.
Because Neptune-C (IMX178 color sensor) does not need to highlight its infrared sensitivity (compared with the IMX464 infrared sensitivity, the point of the IMX178 is very low). So, we put an UV IR-cut protective glass in Neptune-C, return you a pure true color world.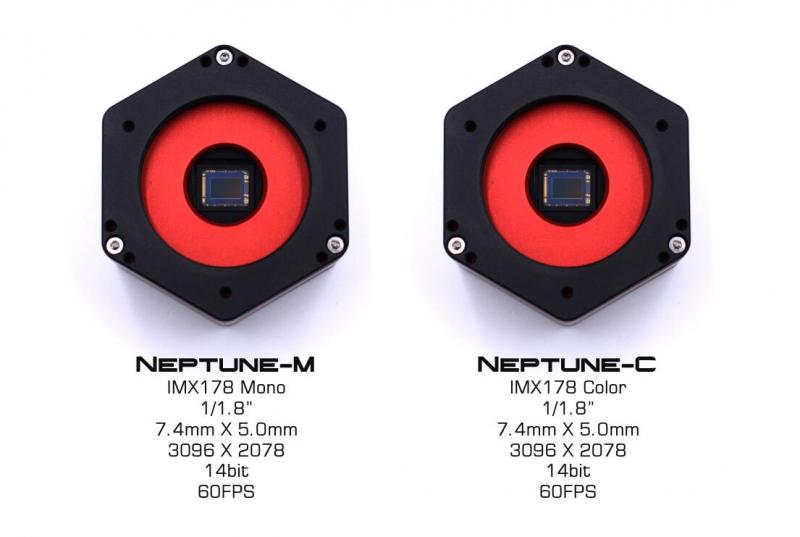 These two models complete our Neptune series, I believe that there will always be one suitable for you.
At last, let's open the price that everyone cares about most: