Innovations Foresight is excited to introduce a patent pending AI based wavefront sensing technology (AIWFS) which provides an innovative powerful quantitative way to analysis telescope performances and collimation (alignment) status without any extra hardware!
It uses your own imaging camera in the process.
SkyWave (SKW) is a Windows based application which uses a defocused image of a star (actual or artificial) in the form of a FIT file.
SKW is on its final beta test phase.
For further information and details please visit our education page here:
https://www.innovati...opecollimation/
Below a SKW screenshot during the analysis of a 17" Corrected Dall-Kirkham telescope.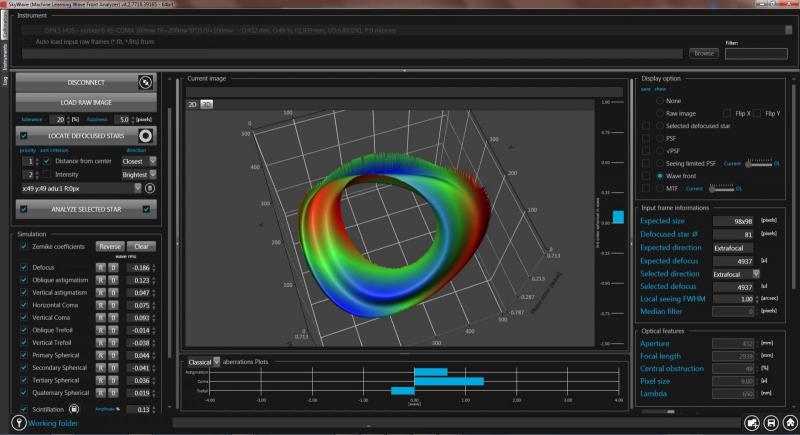 Here is the summary of the initial analysis prior proper collimation of this scope: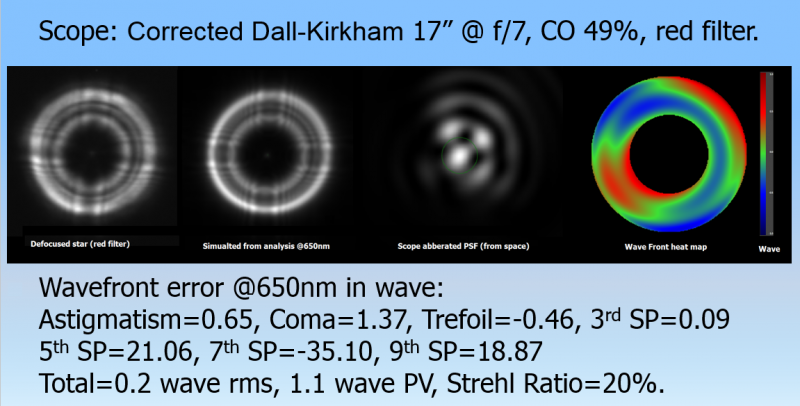 The defocused star image (FIT file) on the left is the raw image from the telescope taken through a red filter, the second most left image is the simulated image reconstructed using the Zernike coefficients and related polynomials found by SKW mathematical model after adding the estimated seeing and the spider diffraction patterns. This is a monochromatic simulation, while the raw one is polychromatic with less contrast. Both images are structurally identical which shows how good the analysis and retrieved WF, as well as related aberrations, are even under seeing limited conditions.
Our technology has been tested against an interferometer and a Shack-Hartman (SH) sensor showing a rms accuracy in the order of 10 milli-waves rms (~5nm), or better (see references below).
The two last images are, from left to right, the scope PSF without any seeing (in space condition) and the WF error heat plot.
References: SPIE proceedings and videos.
Low cost wavefront sensing using artificial intelligence (AI) with-synthetic
Dr. Gaston Baudat
Proceedings Volume 11354, Optical Sensing and Detection VI; 113541G (2020) https://doi.org/10.1117/12.2564070
Event: SPIE Photonics Europe, 2020, Strasbourg, France
A star test wavefront sensor using neural network analysis
Dr. Gaston Baudat and Dr. John B. Hayes
Proceedings Volume 11490, Interferometry XX; 114900U (2020) https://doi.org/10.1117/12.2568018
Event: SPIE Optical Engineering + Applications, 2020, San-Diego CA, USA
More information will be posted after the beta test phase is over, excepted by the end of March 2021, on the product options.
Feel free to contact us at any time.
Edited by Corsica, 22 February 2021 - 01:26 PM.