I'm embarrassed to say that despite of years (decades!) of having a scope I'm still a noob with certain aspects in astrophotography which I'm trying to comprehend. My only excuse is that due to my laziness in the past I've never scrutinised my acquired data as I do now and realized there's so much more I still need to learn.
So in the past 4 months, I've moved to a more conventional PC-styled setup with N.I.N.A., PHD2, ASCOM, etc. and I'm trying to understand my setup a little more. I'm using a Takahashi µ250CRS (2500mm/F10), on a Vixen AXD mount, with the ASI6200MM as my main camera, and an ASI174MM Mini as the OAG guide camera.

With this scope's focal length and main camera, the resolution is 0.31"/pixel. I would say that the area I'm living in has OK seeing (2-4" FWHM). I have a bunch of questions but I'd like to start by asking for my scope with such a long focal length, a camera with 3.76 micron pxel size, and an environment with "OK seeing", what would be considered to be an acceptable PHD2 RMS Total Error? I've read numerous posts and talked to various folks who say RMS Total Errors of even 0.8" is fine, but if I start to scrutinize my light subs in PixInsight, I find that once I go beyond 0.55" or even 0.5", I feel the stars (though still round) seem a little bloated.
Here are some stars in Gum 15.and I got a range of RMS Total Error of 0.35" to 0.55". I autofocus every 5th frame and where I"m at, the temperature's not changing much at night.
The stars on the top left look a lot tighter with clear separation of the surrounding stars around the main star, but in the bottom left the main star's almost swallowed the surrounding stars. I'm attributing that to poor guiding rather than focus.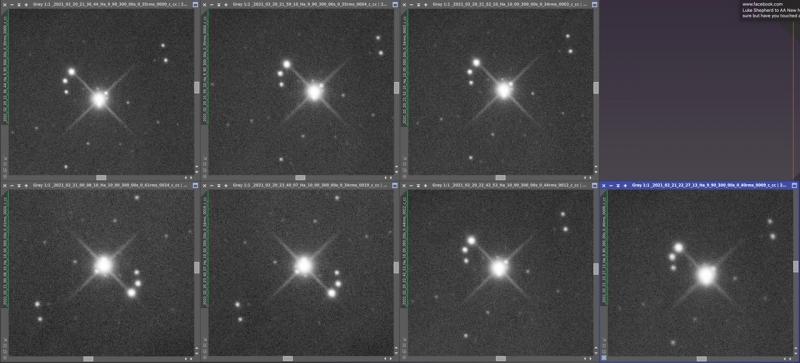 To paraphrase my question again, are there guidelines to what RMS error levels are considered acceptable for a particular scope & camera configuration? Does the total RMS errors correspond to 0.31"/pixel resolution of my scope/camera configuration? Or would that not matter for the 2"-4" FWHM OK seeing of my area?