Back story: In January, due to error ID-10-T my camera suffered a ~5.5 foot fall. The brunt of the force was taken by the lens (now toast) and the interlevometer cable (also toast). The camera body seemed fine and a quick test with another lens (during daylight) didn't seem to show any problems. So, even though I wasn't really in the market for new glass -- off I went to Amazon and got a new-to-me Tamron SP 70-200mm F/2.8 DI VC G2. So, over the last month or so I've noticed some weird defects/artifacts in my integrated lights. (see first screenshot) that presents as a very dark circle in the center of the image with a lighter ring around it (that may repeat more faintly as you go towards the outer edges of the image.
Gear that we're concerned about:
Nikon D7100 (nearly a decade old, suffered a 5+ foot drop)
Tamron SP 70-200mm lens
First Image -- Defect in Lights: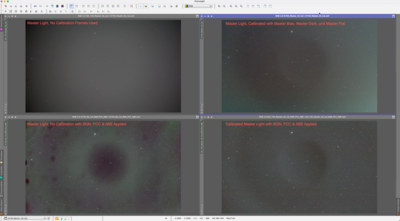 (Note: I use PixInsight for post processing) In this screenshot, on the left are my lights (16 @ 45s each) registered and stacked -- without calibration frames followed by the same master with basic BGN, PCC and ABE applied. On the right, is the master light with calibration frames applied and basic BGN, PCC, and ABE applied. All frames have the same minimal crop applied to remove stacking artifacts.
Second Image -- Defect in Master Flat:

So, in trying to diagnose what this defect is, I applied basic post processing (BGN, ABE) to a copy of the master flat (after debayering it) and the defect is there!
Third Image -- 5 Min Dark Test:

At this point, I'm pretty suspicious that the defect is coming from the lens, or the sensor so I took some really long (for me) darks and while I was surprised to see this banding in my Nikon, it doesn't appear that heat noise is showing the same defect that we see in the other frames.
So, now I'm really worried that I've got a lemon of a lens. I've got a D7100 on the way from Borrow Lenses to see if the same defect shows up on a different camera body, but in the mean time, has anyone seen anything like this and can help me narrow down what issue I need to be solving for?
Masters and some sample subs are available on my dropbox if you want to download the data and take a hard look at it.
Thanks in advance for your help, and Clear Skies!