Yeterday night sky was calm , misty thin cloudy and seeing great.
l aimed my 13" to the Sirius first to see little pup. At 530, 600, 1500......l couldn't find it.....
but 10~20 small points of light( 0.2-0.5" in diameter) within 10 arcsecond from center Airy disk promised me that
lf the firing dancing bunch of spokes of light sink down calm the pup would be appear.
Next target was the southern wall of Aristarchus crater , l observed sketched its structure... .
between 3-4 stepped wall there was 4-5 white motteled regions(size ; 4-5km in length, rather narrow shape & irregular) prominetly differs from the other base graish structure and on the left side(East) wall there was sudden different perpendicular
waves of valley-like structure.
However the wall around inside of its rim, looks far very bright white than not only Aristachus itself, also than any other part of the whole lunar surface.
Wenever l aim at this crater with Shroeter valley l carefully inspect live-hints of volcano, smoke vent, particle eruption, color change of mantle, etc... not yet succide.
Why l couldn't see the pup on such a exellent seeing night?
l have realized that when Moon seeing rates 9/10, then at the
just same moment planet seeing is 5/10, and for Sirius seeing is 3/10.
===========================================================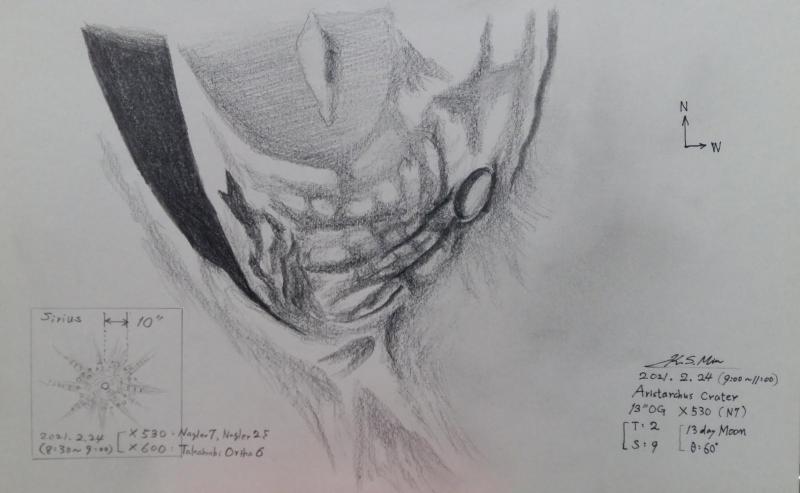 Edited by k.s.min, 24 February 2021 - 11:59 PM.