Hello all,
I recently upgraded my PC hardware in a few ways.
1: AMD RYZEN 9 3900X to a ThreadRipper 3990x
2: SATA SSDs to NVME
I wanted to post my experience with PixInsight benchmarks comparison between them, as well as real world feel for performance.
Benchmarks
Ryzen + RamDisk/SATA PixInsight Benchmark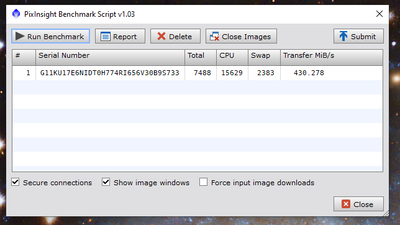 Total: 7488
CPU: 15629
SWAP: 2383
Threadripper + NVME PixInsight Benchmark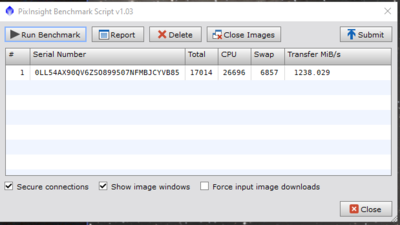 Total: 17014
CPU: 26696
Swap: 6857
Threadripper + NVME with Swap dirs added (10 on NVME) PixInsight Benchmark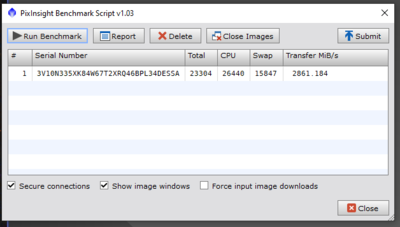 Total: 23304
CPU: 26440
SWAP: 15847
The results are pretty impressive. Almost 3x the performance with the Ryzen + NVME disks.
Real World Feel
This is obviously what is most important, benchmarks are not really a great representation of how long things take for various processes. I did not do a super specific timing test between the two, but I have processed enough to know generally what feels much improved after the upgrade. Below are a few examples of common things I do in my flow and what feels faster or the same.
Image: Andromeda
Camera: QHY 247c
Drizzle: No
Image Size: 142mb
This is all with NVME + ThreadRipper (no RamDisk)
I am unable to get any ramdisk utility to actually start (GUI just opens then crashes with no error) at the moment, so I'm not able to test yet with the Threadripper + RamDisk. Will update this thread if I can get that working with the new hardware.
ABE with Division == Same (surprisingly)
ABE with Subtraction == Faster (definitely)
EZProcessingSuite DeNoise == Faster, definitely faster but didn't blow me away (as I was hoping it would). I'd estimate it is something like 15% faster
Starnet++ == Much faster, but about the same when you're using the GPU settings to do GPU star removal. So overall I'd say GPU and Threadripper are the same, but Threadripper vs Ryzen is much faster on Threadripper
HDRMultiScale == Slightly Faster (sad face)
LocalHistogramEquilization == Much faster (surprisingly)
MultiScaleLinearTransform == Insanely faster (very very insanely faster)
Overall I am definitely noticing my workflow runs faster, even just small things like curves stretch, auto transform are just instant vs a few seconds. Definitely feels much snappier to me. Worth $4,000 for just the CPU? I'm not sure yet to be honest. I think you can probably get pretty comparable results with the cheaper Threadrippers.
-----------------------------------------------------------------------------------------------------------------
If anyone here has any ideas on other tests to do, or benchmarks we can run to see how this performs (vs other CPU's) I am happy to run anything anyone has!
Edited by stobiewankenobi, 25 February 2021 - 03:02 PM.